Life
The Return of Celso Nimo
By
|
So our friend Nimo decided to bring his Accord back from the dead. He decided to debut it on the day of the University of Irvine car show.
The morning started off pretty early. The plan was to meet at Minh's house around 9:30, but like usual everyone was running late. Even Minh was running late and he lived there!
The show started at 10 o'clock, but we did not mind, because we knew we would be showing up fashionably late. Once I arrived I immediately started shooting.
The first car I shot was Jimmy's Civic always breaks my neck, especially because of it's crazy negative camber.

Vinh's LS430 neck breaking like always.
TSX with mag blue re30's sexy!!
Not the usual platform for VIP,
Crazy Accord with Work T1's.
Miata's have been grabbing my attention lately this one was sitting really nicely.
This 240 won best Jank I believe. He was running over fenders with fender flares. Talk about wide wide body.
Another sick Accord. We saw this car on the way back to Minh's house. It sounded awesome, nice deep tone to it.
This is by far the sickest 3rd generation GS I have ever seen. JOB DESIGN is the way to go!!
Okay E90, but what makes it super cool was that, it was driven by a female!!
Minh and Jeff shooting that crazy Job Design GS.
The whole day everyone was asking where Nimo was, because we were all excited to see the Accord back in action. So then, the man of the day finally arrived. I am not going to lie I missed seeing this car on the road. I forgot how sick it looks while rolling.
href="https://royal-origin.com/wp-content/uploads/2012/02/uci261.jpg">
href="https://royal-origin.com/wp-content/uploads/2012/02/uci281.jpg">
We decided to leave shortly after Nimo arrived. Some of us were hungry so we all decided to go to Diamond Jamboree after the show.
It has been a really long time since we all cruised together like this. It was actually really fun and exciting driving all together. We got so excited that we partook in some spirited driving. If you hella functional guys saw us, you might have thought you were seeing things.
Once wee arrived at Diamond Jamboree, we decided to try out Coco Ichibanya. Coco Ichibanya is a restaurant that specializes in Curry. They serve different kinds of meats, and add a side of curry and rice onto it. It is delicious if you order the right amount of spice.
So as I was saying, the food tasted wonderful if you order the right amount of spice. Vinh and Minh decided to share a meal. While ordering their meal they got into a little competition. They tried to top each other on which level of spice they were going to try. So they finally landed on spice level 7. The level scale varies from 1 being the least spiciest, t0 10 being the spiciest. Our waitress explained to us that; if you chose anything beyond a level 6, you would not be able to enjoy your food anymore.
So here it is. Vinh and Minh decided to order Chicken Cutlet Curry, with spice level 7 . Here's Vinh's outcome of eating level 7.
Yeah he definitely lost to Minh. I don't have a picture of Minh's face, but if you saw him, he was as chill as the ocean breeze.
So after lunch we decided to take some photos of the cars at a park by Minh's house.
href="https://royal-origin.com/wp-content/uploads/2012/02/uci413.jpg">
href="https://royal-origin.com/wp-content/uploads/2012/02/mean-rolling-pic1.jpg">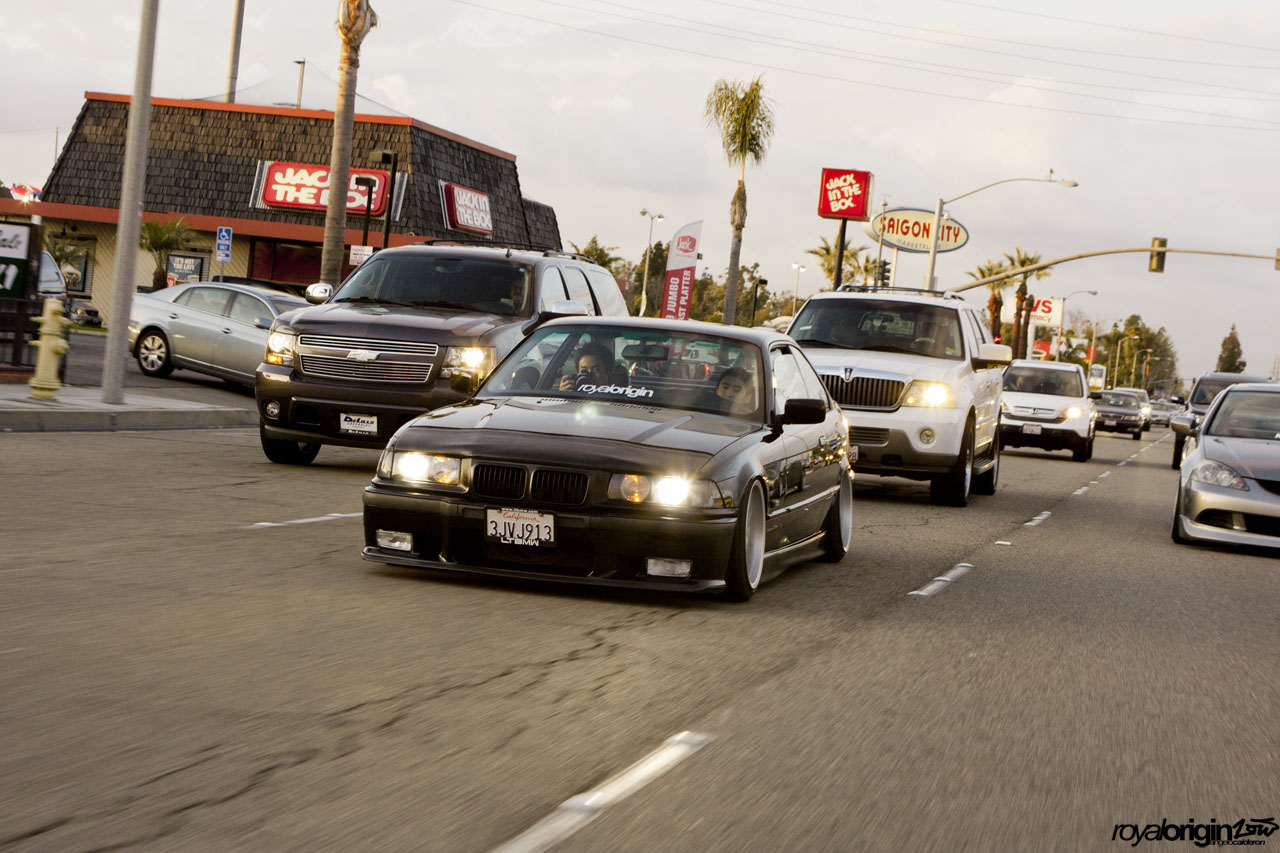 So that's were my day ended. Later that night we decided to throw a car meet for Nimo's return. I was not able to attend the car meet, but I heard the turn out was pretty big. I am sure someone will post pictures of the meet very soon. I wanted to end this post with a picture of Nimo's car. Why you may ask? Because I have missed this car, and I missed Nimo rolling around with us.
Nimo's car is for sale. If you would like to purchase it drop a comment down below for more information.
The rest of my pictures can be viewed below!