Life
A Weekend in Sin City
By
|
It was that time of the year again where Royal Origin invades Las Vegas to have our 3rd annual meet and greet in the city of sin. As the years passed, nothing has changed for the most part. We do it to have fun with our friends and family, and love making new friends with each passing year.

Some of you might know this by now, but I recently went Universal Air bags over BC Racing coilovers with Accuair analog management. Thanks to Bag Riders and Unlimited Auto Craft for helping me get it all together. Because of this, I was constantly working on getting everything fine tuned and safe to make the journey to Las Vegas. In the end, I made it to the meet with only one hour left before the meet ended. Regardless, I was happy to see everyone who made it out.
The top two pictures you see above is my car aired up at 80 PSI, which is also my drive height. Here I am cruising to Red Rock Canyon, which is in the North-West corner of Las Vegas.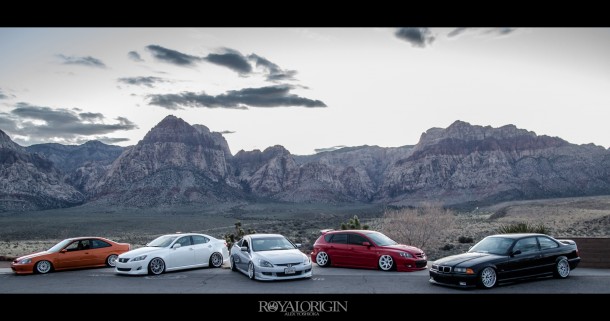 With Red Rock Canyon as our back drop we have Chivas' Civic, Ashton's IS350, Neel's Accord, Alex's E36, and my Mazdaspeed 3.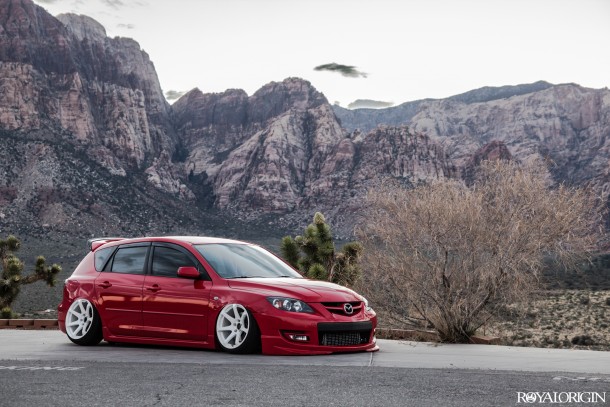 My car aired out on 18×10 +25 Cosmis Racing MR7, which were powder coated Gloss White.
Overall I am super satisfied with the Cosmis Racing MR7. The concave is extremely aggressive, and the wheels feel a bit lighter than most cast wheels these days.
You can see more of my build items over at MazdaFitment.com.
Gassed up and ready for some Las Vegas night shots with Goco Photography. Look out for more LV weekend coverage.
Thanks