Life
Formula D 2013 Tech Day
By
|
Unfortunately for me I wasn't able to join everyone in Vegas this past weekend. It seemed like everyone was out in the desert cruising the strip, sipping on drinks, and rolling the dice. Instead I stayed back in Irvine and set my plans to go to the Formula D Tech Day at the Source Interlink Media office.
The day started nice and early for me. The event was scheduled to start at 10AM but I decided to arrive early with my cousin to help the organizers with the parking arrangements. We pulled into the lot at 8AM and there were already people arriving to get their desired parking spots. I've always thought that if people are showing up 2 hours early to an event, it's pretty safe to assume that it's going to be a pretty good turnout. I definitely wasn't disappointed.
Amir's Porsche 911 – As the pictures depict, this car is no joke. Real aero, real chassis enhancements, and real sticky tires. One day I'll have something like this to beat around the track.
Before barrage of cars started to arrive I was able to spot a nice red DC2 Integra on Rotiforms rocking a HOODRATstuff sticker. It was great to catch up with a supporter especially when I figured everyone would have been in Vegas. Turns out that he had attended the Royal Origin Vegas meet the night before and then headed down to Orange County right after it was over.
As the morning ticked away a lot more cars started to pull in to take over the empty parking lot. GTR's definitely showed a great presence at the meet.
A couple of Fatlace cars also showed up. One of which was Yogi's GS that was only put together the night before. Excuse my crappy picture taking skills. It doesn't do this car any justice.
Spotted this clean G35 sedan on some Rotiform SNA's. Something like this has always been my dream daily driver.
Awesome sticker on the fender-fucked fender as well ;).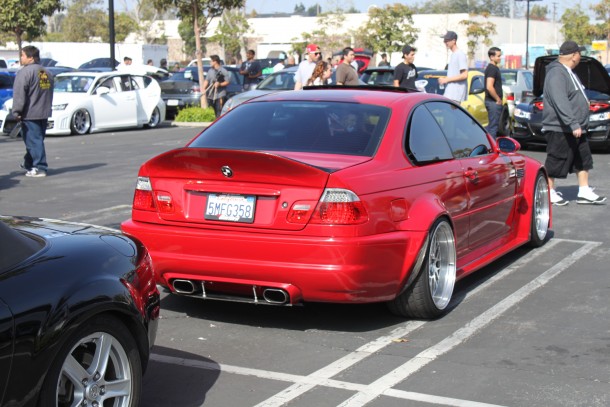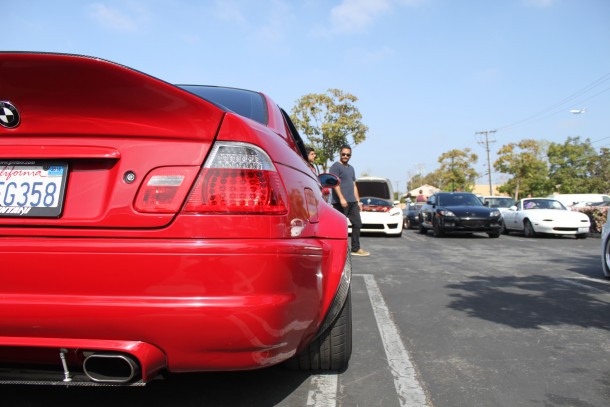 Regular CSL styling and stock sizing fenders wasn't enough for the owner of this car. He took the "whale-tail" and widebody styling to a whole 'nother level.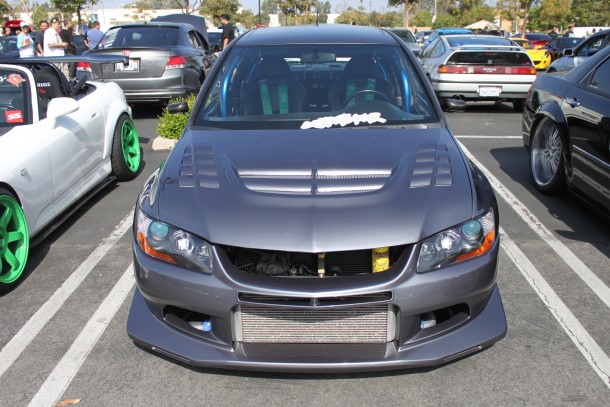 There were a lot of nice EVO's in attendance as well.
Kenny Chieu's awesome looking MR-S. Catch this car getting sideways in the Top Drift competition this year.
Another awesome looking MR-S parked right next to it, this one looking more grip inspired.
The popularity of the FR-S chassis has spread like wildfire. A reasonable priced car, well developed chassis and big aftermarket support has appealed to a lot of people  and it showed at this event. Although most of them are either performance inspired or rocking played out Rocket Bunny kits this car gave off a very different style. Slightly wider wheel fitment and a little more drop would make it looking clean and perfect.
The whole point of the event was for this year's Formula D contestants to have their cars inspected to follow the championship regulations. Time for some drift car porn!
Mike Essa's new E46 . Brand new build for the 2013 season. I can't wait to see it complete and competing at the first round in Long Beach.
Taka Aono's refreshed Corolla. Although some cars arrived incomplete, it was good to see some of the new changes in livery and modifications done to the other cars.
Joon Maeng's and his team were also there with their competition car for the 2013 season. One thing that I would like to point out is that Joon was there nice and early, and even after the car was finished with the inspection, his team set up a tent and stayed all day answering questions and hanging out with the fans. Now that's an awesome guy!
Defending champion Daigo Saito's car. I can't wait to see this thing go at it again this year.
I noticed a line forming towards the front of the event so I went over to check out what was going on…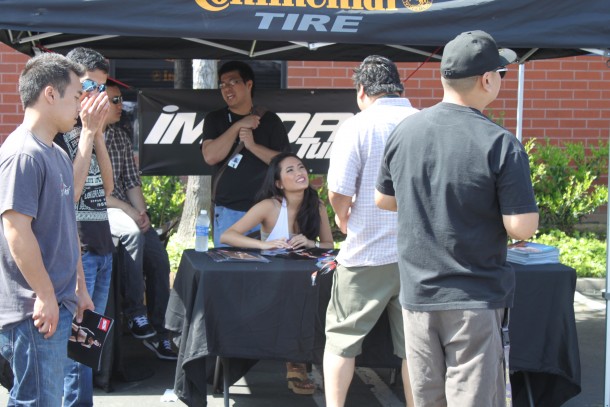 Sandra Wong had arrived.
Throughout the whole day cars were leaving and more cars were pouring in so I decided to do a few more strolls through the aisles.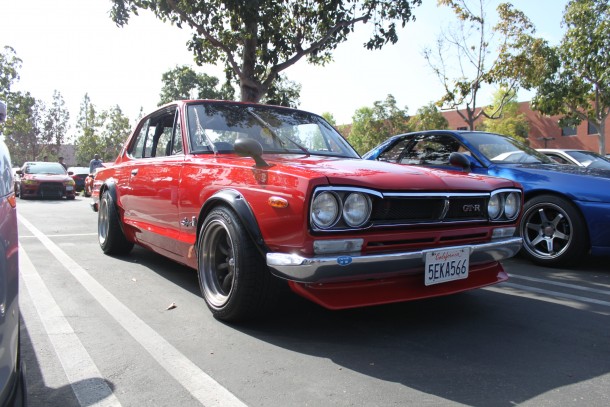 Then I spotted this. A HAKOSUKA GTR! YES!
These days, it's not a good car meet without some food trucks. Dos Chinos, Dogzilla, Sexy Burger and Tropical Shave Ice were there to provide food for the hungry.
Whether it be one an apex eating track car or a VIP styled ride, TE37SL's look good anywhere, anytime, on anything.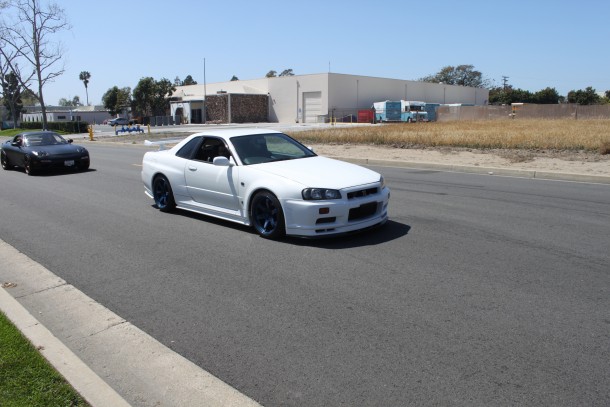 Towards the end of the event this R34 arrived. I had spotted him out of the street and wanted to take a snap of it. He cheekily flipped his license plate as I pulled up my camera.
Despite my sunburnt face and getting a "no-front-plate" ticket while leaving the event, it was a pretty good day. I tend to grow tired of car events when I see the same old cars over and over again but the Formula D Tech Day always had something going on to entertain me.
To the idiots who thought it was a 0-40mph competition or who wanted to show off that their piece of shit cars had an exhaust, I'd like to thank you for ruining the meet by gaining the Irvine PD's attention. Although the police allowed the event to continue, they weren't shy about pulling people over towards the end of the meet. I've been around long enough to know that this will always happen at large gatherings but I had always hoped that people would grow the fuck up. It's amusing because the cars that are properly built and that are actually impressive tend to leave events in a proper manner, whereas the piece-of-crap jank cars always leave like they have something to prove.