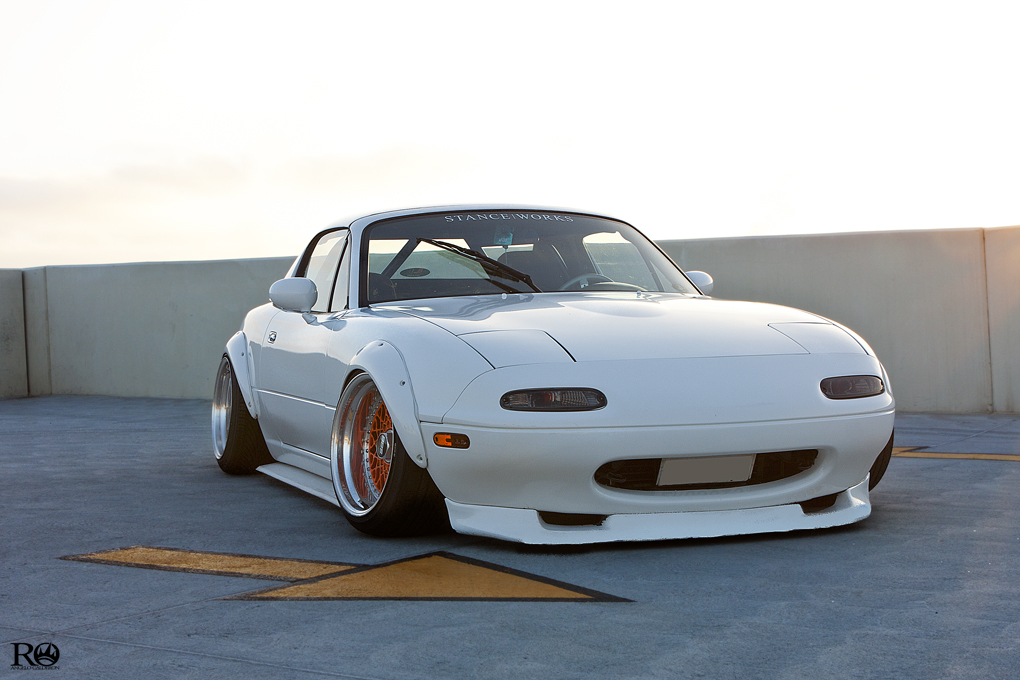 Life
People of Awesome!!!
By
|
A couple of weeks ago, we met up because it's been a while since we last saw each other. We decided to kick it with a close group of friends, nicknamed AWESOME PEOPLE! Yeah, that's right, awesome people. It's funny how this group on Facebook came about. The group started off with people who were showing with Royal Origin for the 2011 Autocon show. Gradually after the show, our friends started to add people for fun and now we have a huge group of awesome people posting up everything, from drifting to people's penis. What's especially cool about the group is that we all share a common hobby, cars. We don't just drive ordinary cars, but we drive AWESOME ones. The day we all decided to meet up also turned out to be the day that we would do a mini car meet on top of Diamond Jamboree. Fun Fact:  Diamond Jamboree is pretty much the hangout spot for awesome people, so if you want to kick it with us just hit us up at Lollicup. Anyways, the little car meet ended up turning into somewhat of a photo shoot. With so many cool cars, it was hard not to take pictures. So here is what I have for you.
This awesome Miata you see below is Zayan's. Believe it or not, Zayan claims that this is his raised ride height. Stupid crazy if you ask me!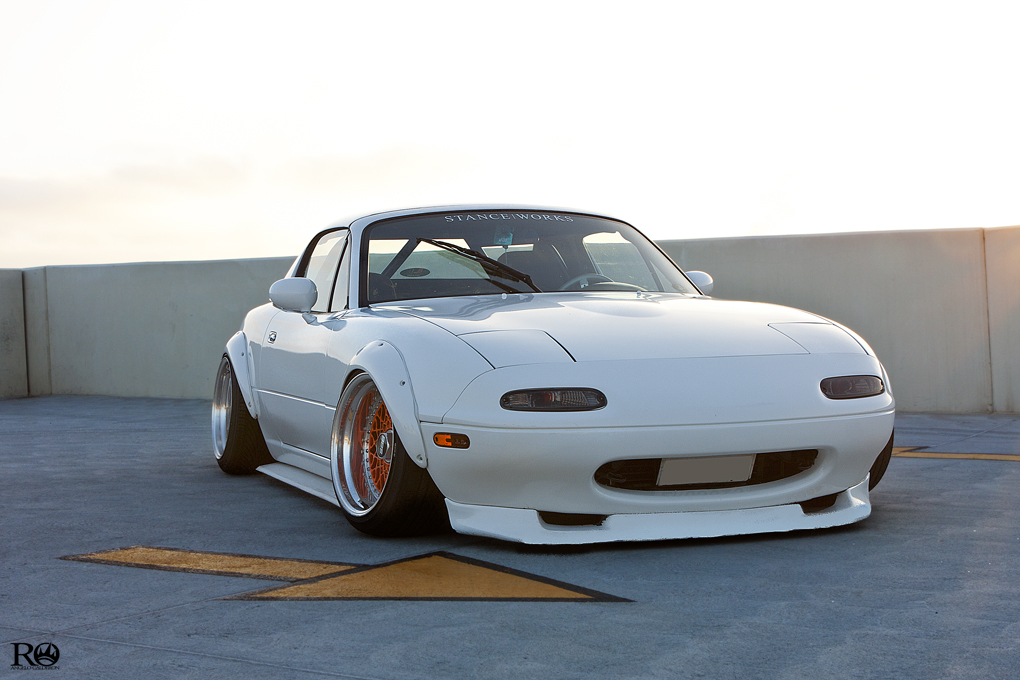 Those orange BBS RS catch your eyes the minute you look, and once they catch your attention, you find yourself automatically staring at his over fenders. Pure AWESOMENESS.
Zayan on his way home, driving like the true "G" he is.
I like to call these next couple of cars the BAWS of BAWSES. June Choi probably owns the lowest static IS300 state side, and Vinh Nguyen's LS 430 is something you can never take your eyes off of.
The bright yellow on June's car will always have you breaking your neck.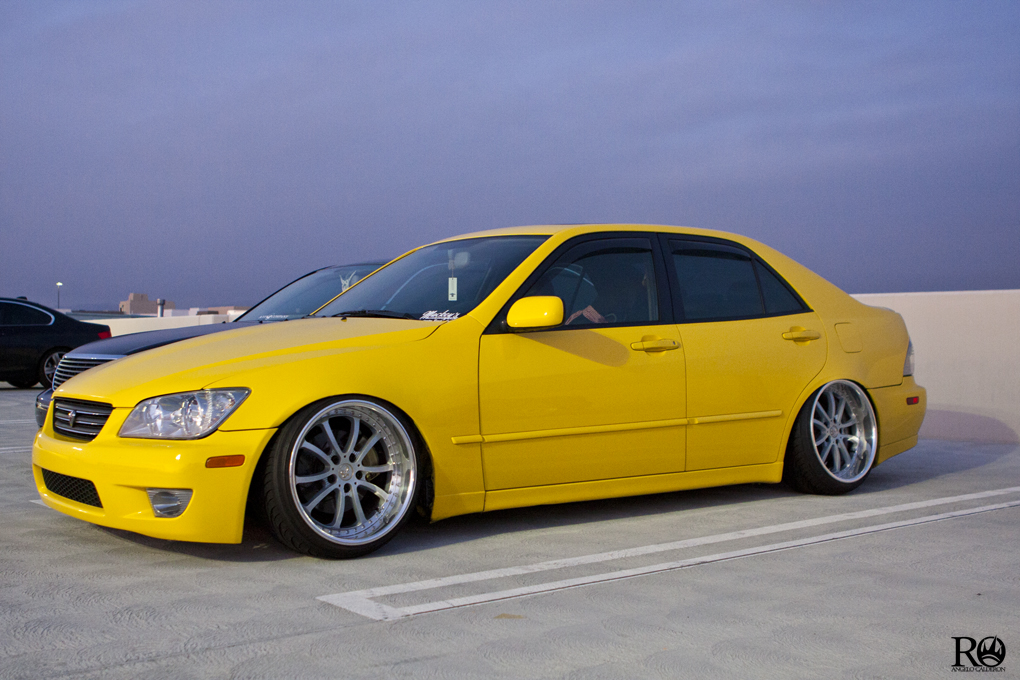 BAWS, what more can I say?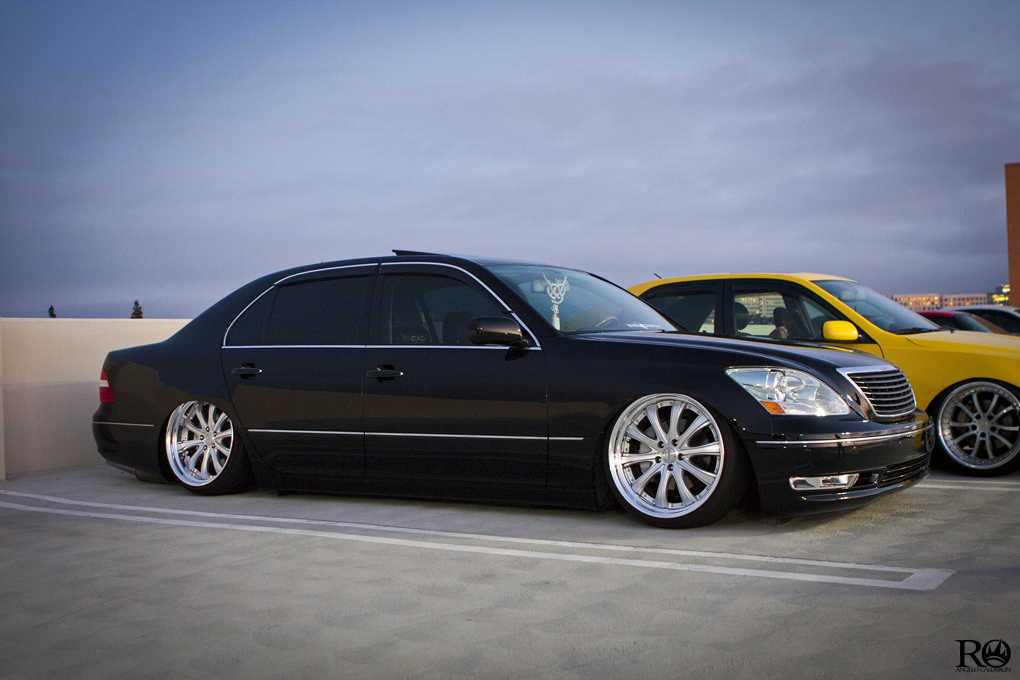 The two parked next to each other is boner popping.
Jimmy's Civic is just insane, I'm sure everyone has seen it before, but always be ready to be surprised because he has a new set up in the works.
This here is Tucker's Miata, simple but elegant, definitely a neckbreaker when you see it moving.
Colby's newly purchased Honda S2000 flows so smoothly with the subtle side splitters and rpf1's. It would make any broad chase him.
A group shot of all of them together. So much epicness.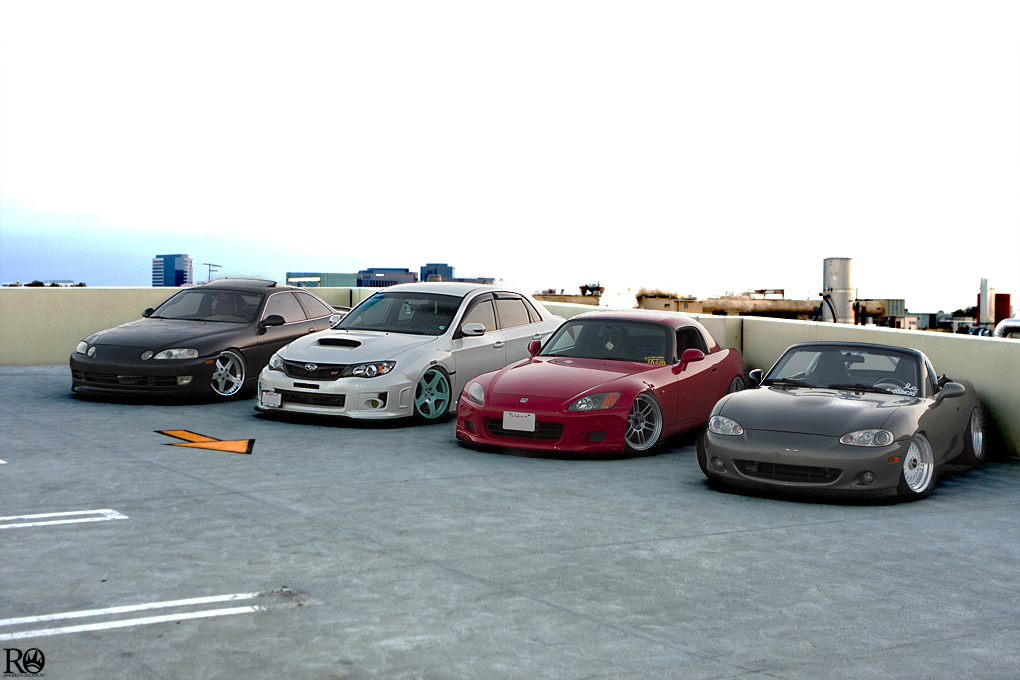 I chose to post these last couple of cars for a reason. I wanted to congratulate Derek Keota, Chris Foreman, Kentaro Suga, and Ryan Gold for officially becoming part of our ROYAL ORIGIN family. You guys are definitely cool cats, and I'm excited to kick it with you guys more often.
This here is Derek Keota's whippo.
And this here is Chris Foreman's whippo, this car is still a work in progress. Give it some time and it will be shitting all over my car and the rest of the Z game.
Kentaro wasn't there that day, but here is a photo Minh took of it for Hellaflush. Definitely jaw dropping.
Ryan Gold wasn't there either, but here is a photo of his car, also taken by Minh Nguyen.
Hope you guys enjoyed the post. Until next time!