Main
SUNDAY MEATS
By
|
  Things have been pretty busy around here, we've been planning future events and future moves for 2015. It's been a little stressful, but we still managed to plan a meet with Air Runner and still drop our holiday HOODRATstuff line which you can now buy on our online shop.  Sorry to everyone who didn't get the time change, when we planned this meet a month ago we didn't account for day light savings time to be in effect. So, we moved the time an hour earlier and ended the meet when it got dark. Still.. thanks to everyone who came out to hang! It seemed like everyone was doing "hoodrat stuff" left and right at the meet if you know what I mean..
Air Runner as usual had a variety of VIP cars that they've worked on for display like this Toyota Previa bagged on SSR SP4s.
VIP cars cruising left and right at this meet.
 With all of our meets we like a little variety. Seeing the same style can be boring at times.
Daniel's Lexus IS300 with some new fender flares and a TRD Neo V2 front bumper. Just needs some height adjustment and this would look king.
 I love seeing slammed IS300s. I kinda miss driving static.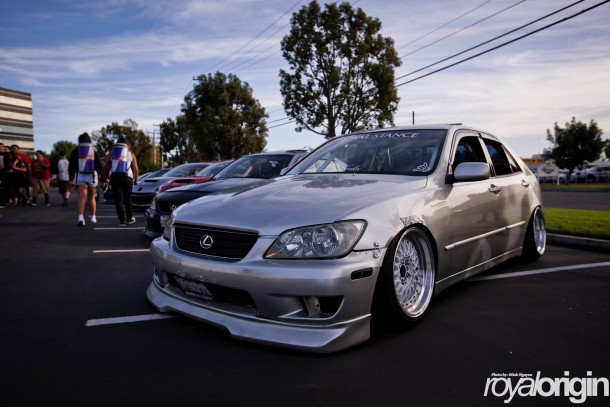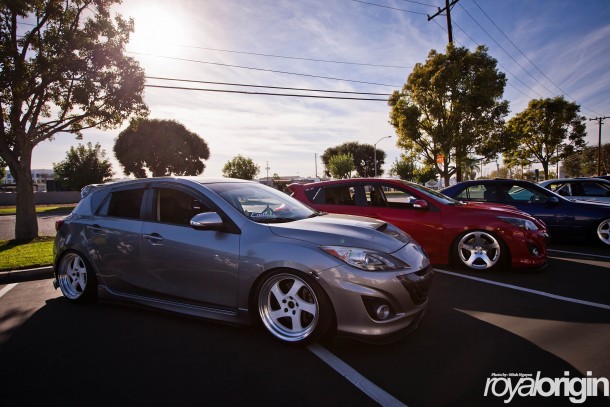 Whistlers vs Rotiform?
First time seeing some Fifteen 52 Tarmacs on a Prelude. Looks pretty clean.
 My childhood friend Johnny's E30. Crazy how we haven't seen each other for like 10 years and was reconnected through cars.
 The internet made an appearance today.
 If you haven't seen it yet, check out this little feature we did of Yogi's car.
https://royal-origin.com/2014/10/29/yogis-lexus-gs-of-death/
Adam brought out dailow V2 his newly acquired S13.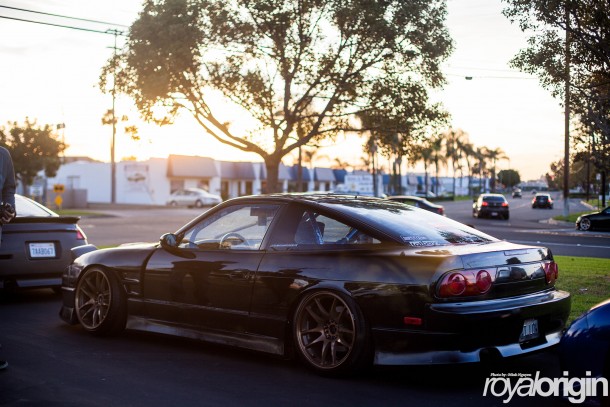 Thank you to the Red Bull girls for hydrating everyone and getting everyone super wired.
The Pure VIP fam came out to show us support. Thanks for bringing out your nice rides!
I loved it when Johnne had the Infinite Werk Wheels, but damn these Leon Hardritt Waffes is what made me fall in love with his car when I first saw it at a LTMW meet. Glad he brought this look back!
Jineane's super clean IS300 wagon. Single parent and still able to have a sick car. Props to you Jineane.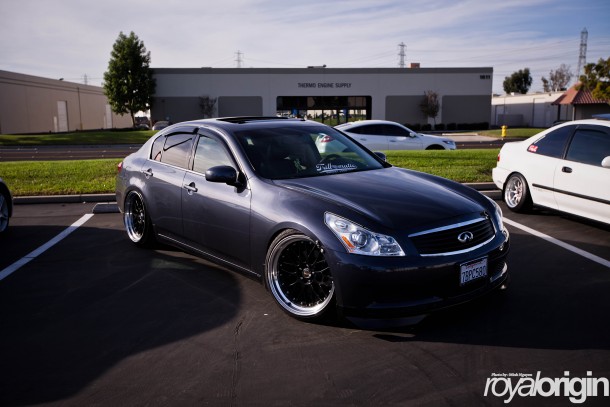 When one parking spot isn't enough.
When two parking spots isn't enough.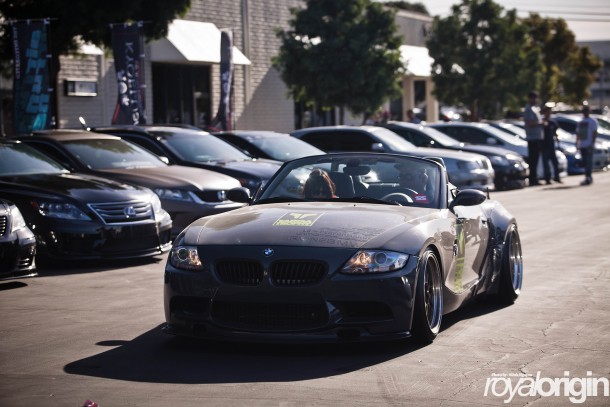 Liberty Walk Z4 made a quick roll through of the meet.
Brian recently purchased an Integra Type R. Must be nice.
Jay was nice enough to do vinyl installation for people who bought stickers that day.
Photo shy.
More of the Air Runner line up.
It started to get real packed thankfully, there was over flow parking across the street.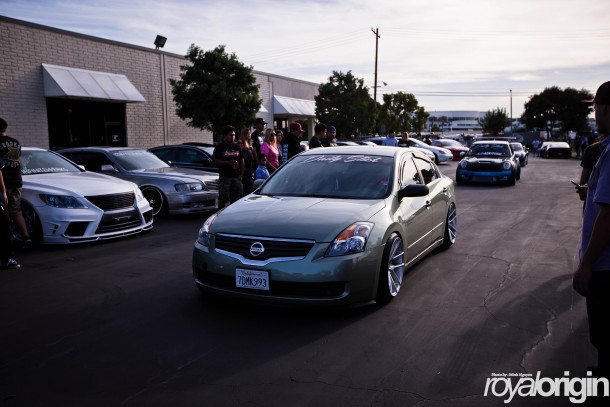 Interesting color setup on this Mini Cooper.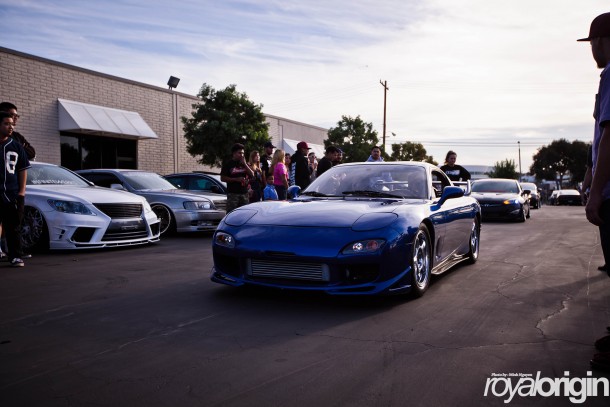 Mazda Dreams.
This Genesis was rolling pretty hard static and tucking OEM wheels.
This Civic wanted to do the opposite.
Rarely see a Maserati modified like this, looks pretty sick.
West Collective crew was also in attendance, thanks for always coming out to our events!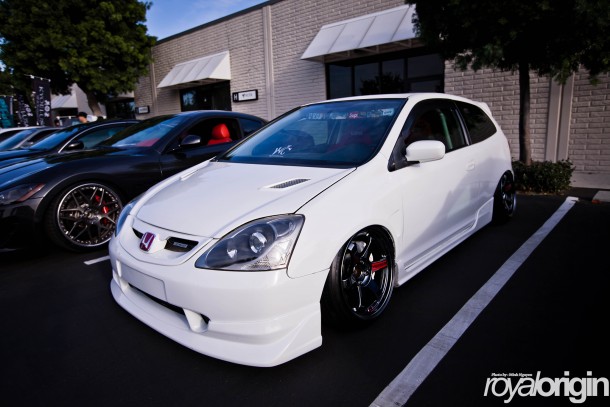 Erik and his always perfect EP3 on black chrome TE37s.
Robert's RSX on Rotiform TMB's. Check out this photo set of his car if you want more details.
https://royal-origin.com/2014/06/25/west-coast-collective-photoset/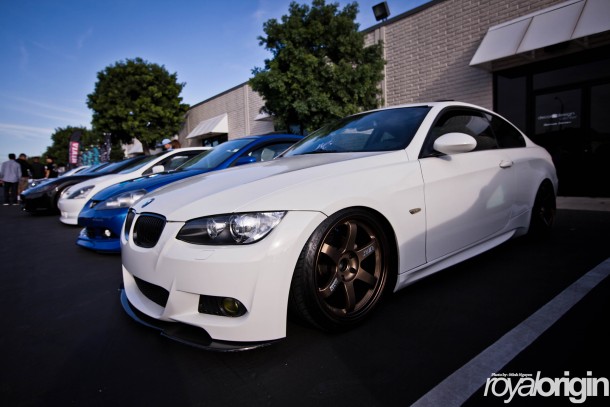 Thanh's simply clean E92 on Volk TE37s.
Drift style IS300.
Parked in the furthest lot, thought you weren't going to get any car coverage. You thought wrong.
We need to see more of these Nissan 300zs done up. Wide and low is my kind of style and this car is the perfect embodiment of that.
Vincent's new A7 on Avant Garde M580.
Audi R8 on HRE S104.
This GTR was also rocking a set of HRE wheels, but this time the S101.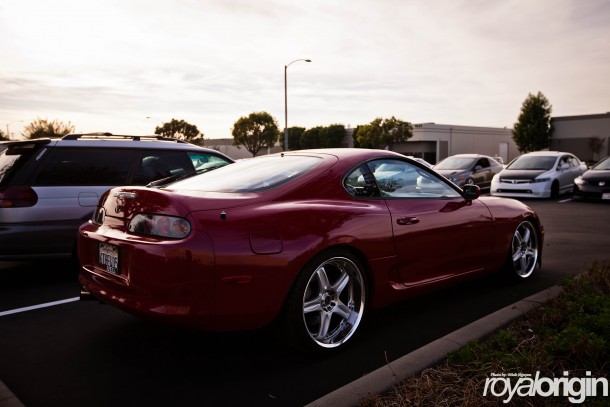 This car reminds me of the late Jonathan Pham's E30 vert. R.I.P. buddy.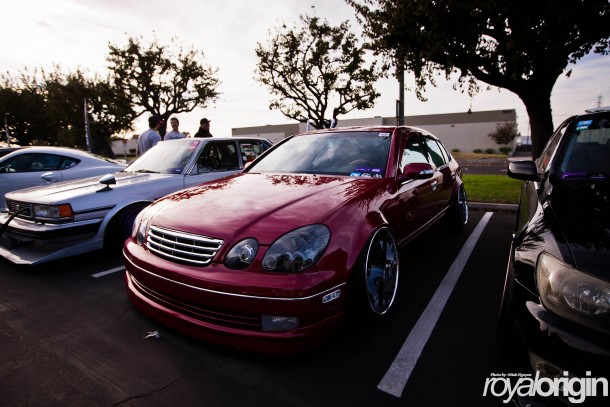 The homie line up.
Abbitt's STI on some Rotiform bottle caps.
White car club from different aspects of car culture. Track, daily, and VIP.
Man I hate seeing these CRXs and not owning one..
Pretty slammed Accord, I think this is the one that made Nimo want to build another one.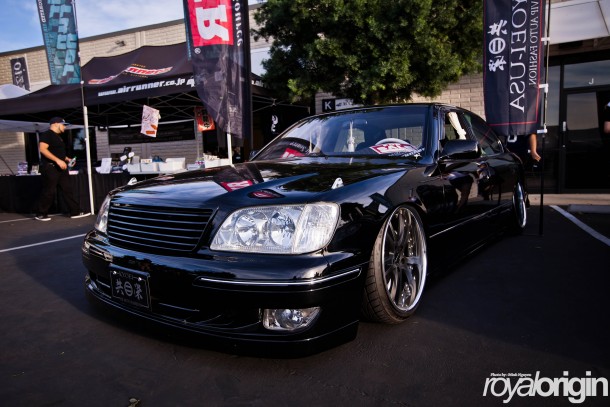 Kyoei's LS400 that is for sale hit them up at info@kyoei-usa.com for more information.
California Grill Truck providing some delicious KBBQ fries and grilled cheese sandwiches.
Tommy from Infinite Werk's KBREAK LS460.
My old wheels look pretty good on Max's GS. Too bad the cup kit doesn't go as low.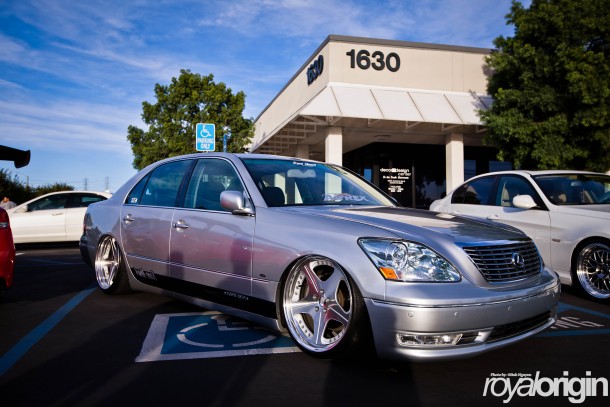 Damn shadows.. The Phaze 2 guys ahrd their own corner of MBN cars.
Noel's Varis FRS on SSR TF1.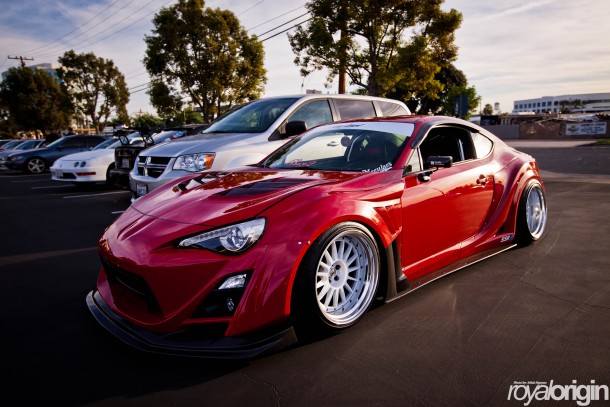 When you think you have a nice car, Phaze 2 reminds you that you don't.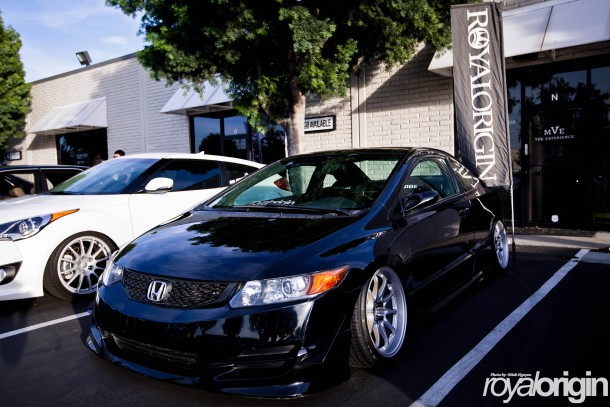 Jimmy aka Mr. MIA finally took the time to come out and hang.
Angelo's 350Z, he releases air from his tires to look lower.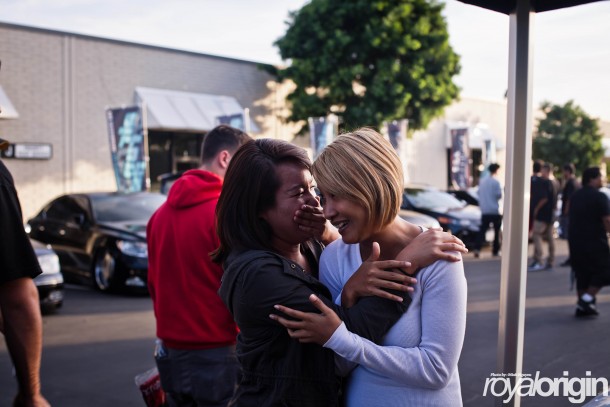 Bonnie laughing with Carol about their boyfriend's GT wings and discussing the aerodynamics and down force theories.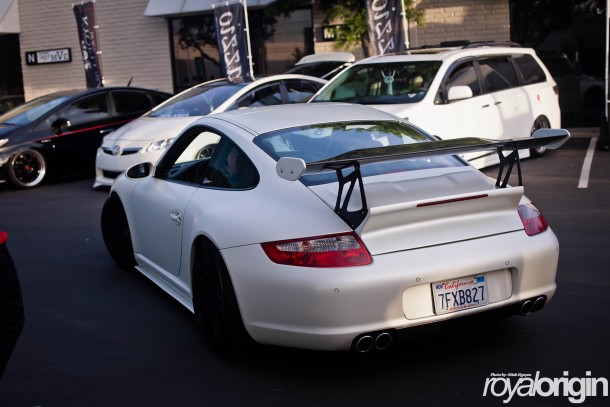 John day dreaming about an AIMGAIN kit for his car.
John finally finished his air setup, so I let him park next to me.
It would look super fucking extra on John's GS300.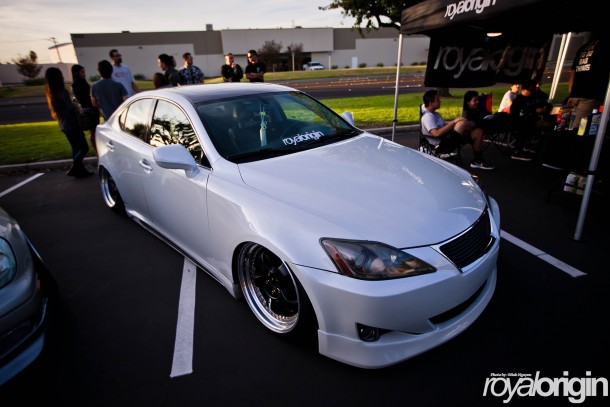 My car would not mind acquiring a kit as well..
Stumbled upon a couples circle, probably talking about car stuff while the girls just nod and smile.
This meet Air Runner, Kyoei, JDM Chemicals, VIAIR and yours truly had some great free raffle prizes. Casey smiling in the back because he won the JDM Chemicals care package.
Nimo with dem films. Weird not seeing live coverage of this meet on Instagram.
Our first time using our new 10×10 canopies. Makes us a little bit more legit.
As the sun was coming down it made for some pretty cool photos.
Boosted S2000 on SSR SP3.
Angelo getting prepared to do a reverse exit, so he won't mess up his front bumper.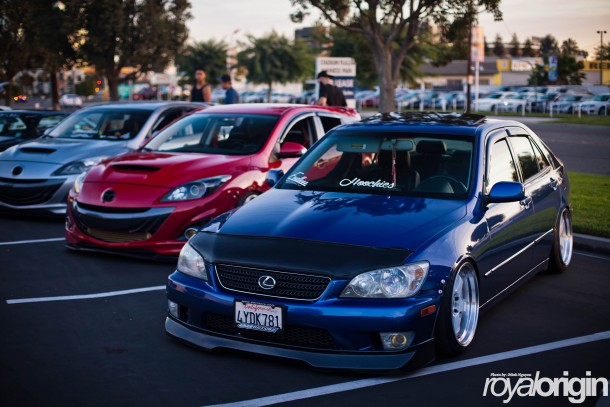 Dat Royal Origin Sunset sticker doe with a sunset in the background.
Pristine paint job on this GS300 rocking some MRR wheels.
Audi on CCW classics.
Thanks for reppin'!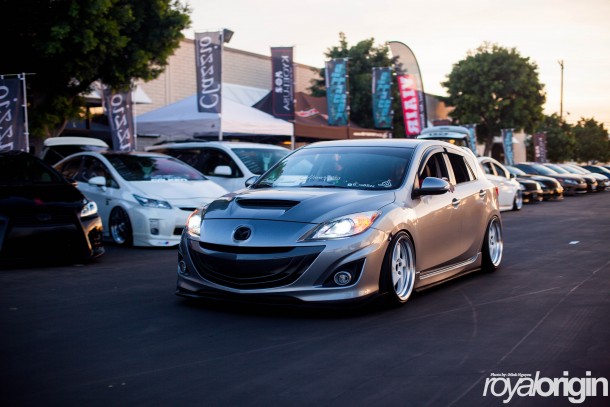 Sean's ever so classic LS400 on Koenig Monster wheels.
Kevin's LS400 on Work Schwert SC4.
~goodfeelings~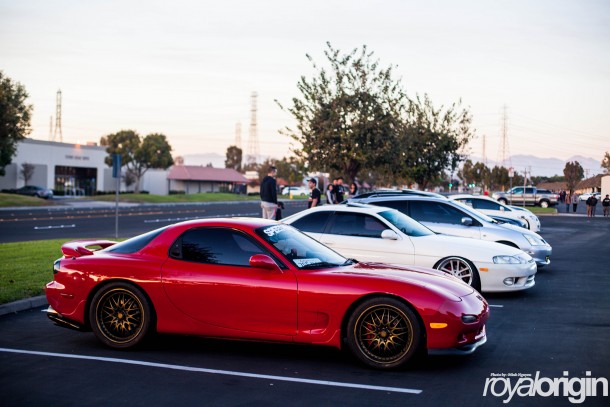 Lexus SC300 on Weds Kranze LXZs.
The Bae Mobile. Nicole's Genesis Coupe on 57 Getter.
Derek's back to black and looking sporty on Cosmis Racing wheels.
Thankful for all the homies that helped out today. It would've been a bad time if I had to do this all alone.
Thanks to Shin from Air Runner for providing us a spot to throw a meet and for giving away great raffle prizes. There's like 173 photos to go through in the gallery, so help yourself.. Until next time…
-NGUASS