Main
Slammed Society Irwindale
By
|
So this past weekend Royal Origin decided to come out in full force for the Slammed Society Irwindale show. We rolled up 20 plus cars deep and like usual we all got there kind of late, but everything ended up working out perfectly because Fatlace gave us a little corner on the drag strip to set up all our cars. The only problem I had with roll in was that no one told us we weren't allowed to have a passenger roll in with us. So all the passengers (girlfriends) were told to wait outside of the gates until 2 P.M. when the gates would open to the public. Luckily Bonnie, Regina, and Carol dressed up like import models that day and we were able to sneak them in through Dsport as import models and Ryo from Lowballers Japan as their photographer! Besides that little problem, SS Irwindale would have to be one of the funnest shows I've been to in a while. Vinh, Minh, and I were able to go down to the pits and get right up close and personal with the drift cars, and thanks to Young everyone was turned up to the fullest that day. I can't wait for Formula D to start next year I'm definitely getting a media pass for every show!
Enough of me talking and onto the cars. This past show brought out the best of the best fitment, from meaty fitment all the way down to stretch tire fitment. It also brought out different build styles from full blown track cars to cars that are literally millimeters off the ground. I wasn't able to take many pictures of the cars because coincidentally the perfect time to take pictures was also the perfect time for the public to check out the showcase.
Mark's crazy fitted 350z from LowNslow Crew with those beautiful SSR MS1's
The bartender of the show, Young Choi rockin that 326 bull dog front camber
Johnny from royalflush, with that bright as a diamond paint job!
Have you ever seen the lowest RX8 in the world? Well now you have!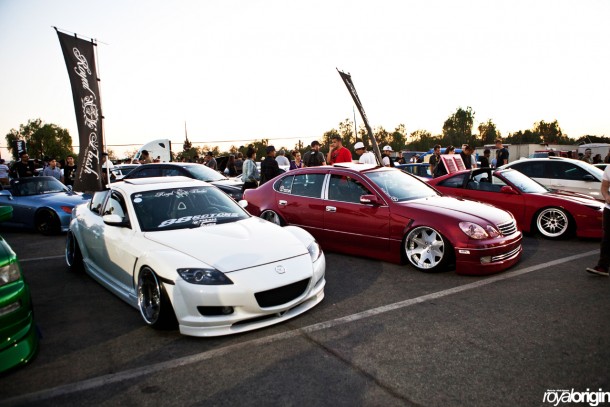 Royal Flush.
Minh with his newly finished Junction Produce Scaras, pictures do not do this wheel justice!
Ryan came all the way out from Santa Barbara, wearing some volk re30's on his newly acquired evo.
Jason's fitment on his IS300 is jaw dropping and boner popping!
The king of cracking oil pans, Jimmy muthafuckin Lieu, He has cracked 6 oil pans with in the span of 6 months. He decided to go full retard for the show and tuck rim all the way around. Sadly he cracked his pan for the 7th time on the way home from the show, but everything worked out okay, he got a tow from our good friend Kevin and slapped on his new pan the following day.
Kevin's S2000, it was late in the day and there wasn't enough light to catch his wheels. Sorry Kevin
I believe I've seen this civic around citrus college. I love the white on black theme you have going on.
This EG hatch was insane. One of a kind rebarrled regamasters and it was converted to right hand drive!
This Acura CL reminded me of my friend Michael Johnson's Acura TL, none the less, it was a beautiful piece of machinery.
This accord was on the ground! Kudo's to you if you are static!!
John Tran's Integra sitting beautifully on CCW's Unfortunately the following morning, the car was stolen from Orange Coast College. Can everyone please keep an eye out for this car, it was last seen in Riverside.
Sean's G35 had people scratching there head's and wondering how he drives this thing. The fitment on this car is ridiculously insane!
Nick and Neel came out to party that day too!
AWWWWWWFILMS brought out his spec B legacy. Love his white on white combo, keep an eye out for his car when he rocks the rotiform wrw's.
Vinh aka "big vinh" was afraid he wasn't going to be able to show because he didn't have enough time to finish his turbo setup. Luckily with the help of friends he was able to get it running properly the night before.
Kyle brought out his newly finished BN sport S13. It was so hard for me to snap a picture of this car due to people swarming around it! Congratulations on winning the speedhunter award and I can't wait for the feature to drop.
"JPN SPEC" was what the license plate said on this car. Without a doubt this car definitely fits in with that category. Right hand drive converted with the multicolor race scheme straight out of Japan.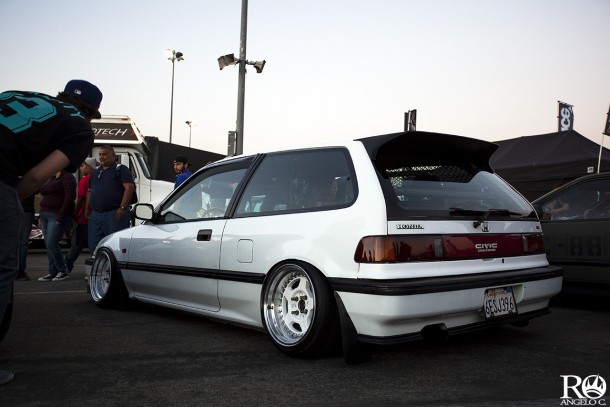 Simple and clean EF civic, just the way I like it!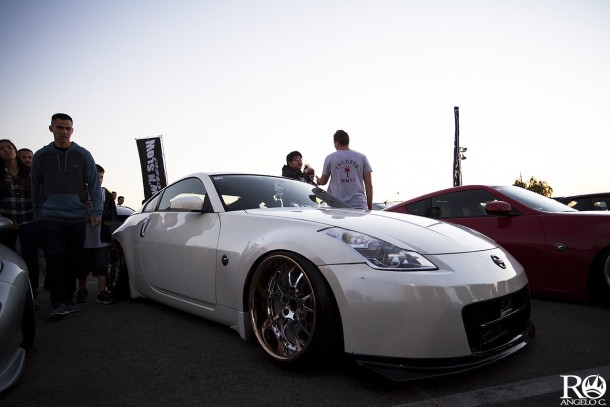 My good friend JC, your car is looking boss bro! Especially with the finish of your new wheels! Thank you again for letting me buy your front lip at 3 AM in the morning!
Ashton the king of perverts, be ready to take it in the butt when you see this guy! His car sits beautifully on Work Cr Kai ultimate's
The Yakuza himself, Mark won best VIP that day!
Keychain, with his simple and beautiful IS300.
Jon Tran reppin LowNslow, believe it or not the face's of his wheels are vinyl wrapped, never in my life have I heard that done before!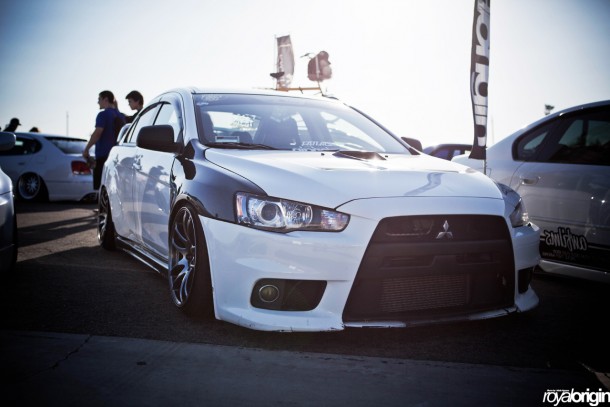 Vinh didn't finish Ariana(The Sti) in time so he used Brandon's EVO to show.
Super sick TL wagon on Weds Vishnus.
Sick cars as always at the Hoonigan area.
No stranger to us is Ribler's Audi Avant on Rotiform IND.
A more sportier version of the GS rocking some TE-37 SL.
Sick Camry on my all time favorite wheels! Work Equips.
BooshmaV3 looking good with the new exhaust.
M.I.A. Dailow.
Probably the most wildest GS I have ever laid my eyes on in the U.S. and it drifts!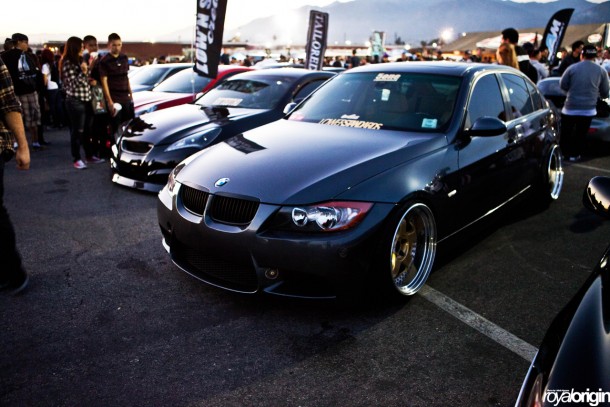 More photos in the gallery!
Words by Angelo.
Photos by Angelo and Minh
Instagram – @angelooo_calderon
@nguass