Main
White & White
By
|
We were out in Las Vegas, Nevada for the end of the SEMA show at the Las Vegas Convention Center. After we were done with SEMA, we had some time to chill with our friends out there like usual and shoot the cars for a bit. It had been a while since I made a video and got my hands on a new crane, so it was a fun way to learn some new things while filming. Nevertheless, I especially liked this shoot because both these cars were running new setups; be it new wheels or new lip kits. Check out Minh Nguyen's Lexus IS250 and Keith Cheng's Honda Accord.
Royal Origin – White Power from Shavi Wijegunaratne on Vimeo.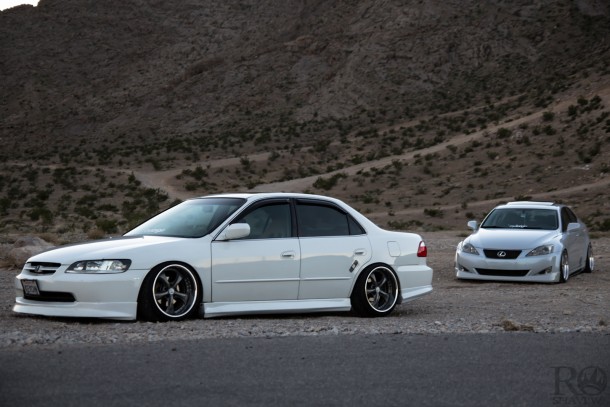 I also had some time to take some pictures, something I rarely do, but have gotten into playing around with my photo skills these days.
Minh still rocking the Junction Produce Scara wheels, but now with a new lip kit. Looks mighty fine.
Keith recently got a much needed firmware update on his wheel setup; it's been outdated since 2010. Now updated to Work VS-KF wheels.
PEACE BE WITH YOU.

-Shavi W.