Life
Last Minhute IS300
By
|
I put the IS300 together real quick with the help of Angelo and David. I swear, whenever anyone needs to slam their cars to the ground, we end up doing it at Angelo's house. Thanks, David, for letting me borrow the wheels, and Brandon, for the grille. Putting this together was just for fun.

Wish I could've gotten a front lip for it and fixed the bumper before I took these photos.
Crazy thing is the STD coilovers aren't even maxed out…could've tucked rim all around. The ground wouldn't have allowed it though.
The clearance. This isn't even the lowest part…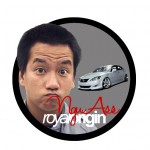 -NGU ASS