Life
Formula D Round 7 – Title Fight
By
|
Hi everyone! My name is Jay and I'll be also posting coverage and articles on this website. An introduction will come later, but for now, here's my coverage of this past weekend's Formula D Round 7 at Irwindale Speedway – "The Title Fight".
For some of us, the day started relatively early. Tim came to my house in Irvine from a 5:00am shift at work, the Yoshi's brothers were up early to wipe down Alex Yoshi's car, and I…. well I didn't sleep at all. I was to enter Minh's IS250 for him because he was busy with work and Alex was going to enter his e36 in the Fatlace Slammed Society Showcase.
Two freeways and one gas station later, we arrived at the speedway at 10:30am and were welcomed by a cluster of showcase entrants lined up front – awaiting their parking spots for the showcase.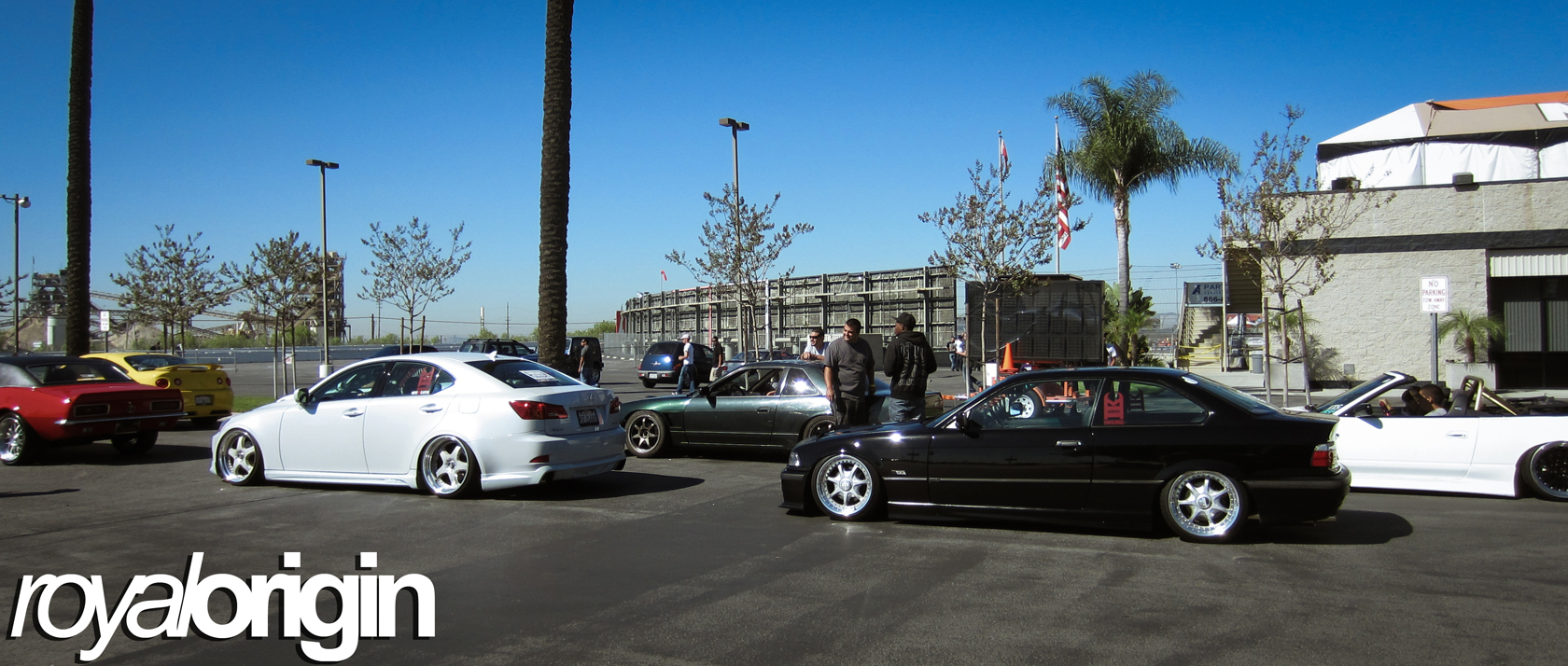 After a few chats with friends and other entrants we were granted permission to drive in. The show area was already filled with top-notch builds but luckily for us, Yogi from Fatlace had saved us two spots right next to the Fatlace booth. After a quick wipedown of our two cars we did the quick walk around of what the Showcase had on display. Some notable cars that really caught our eyes were:
John Zhang's 1-series – It's always fascinating to see this car.
Project-G's mob of Miata's – The Roadsters rolled deep! Collaborating with the KINOD they also had an MR-S showing with them as well!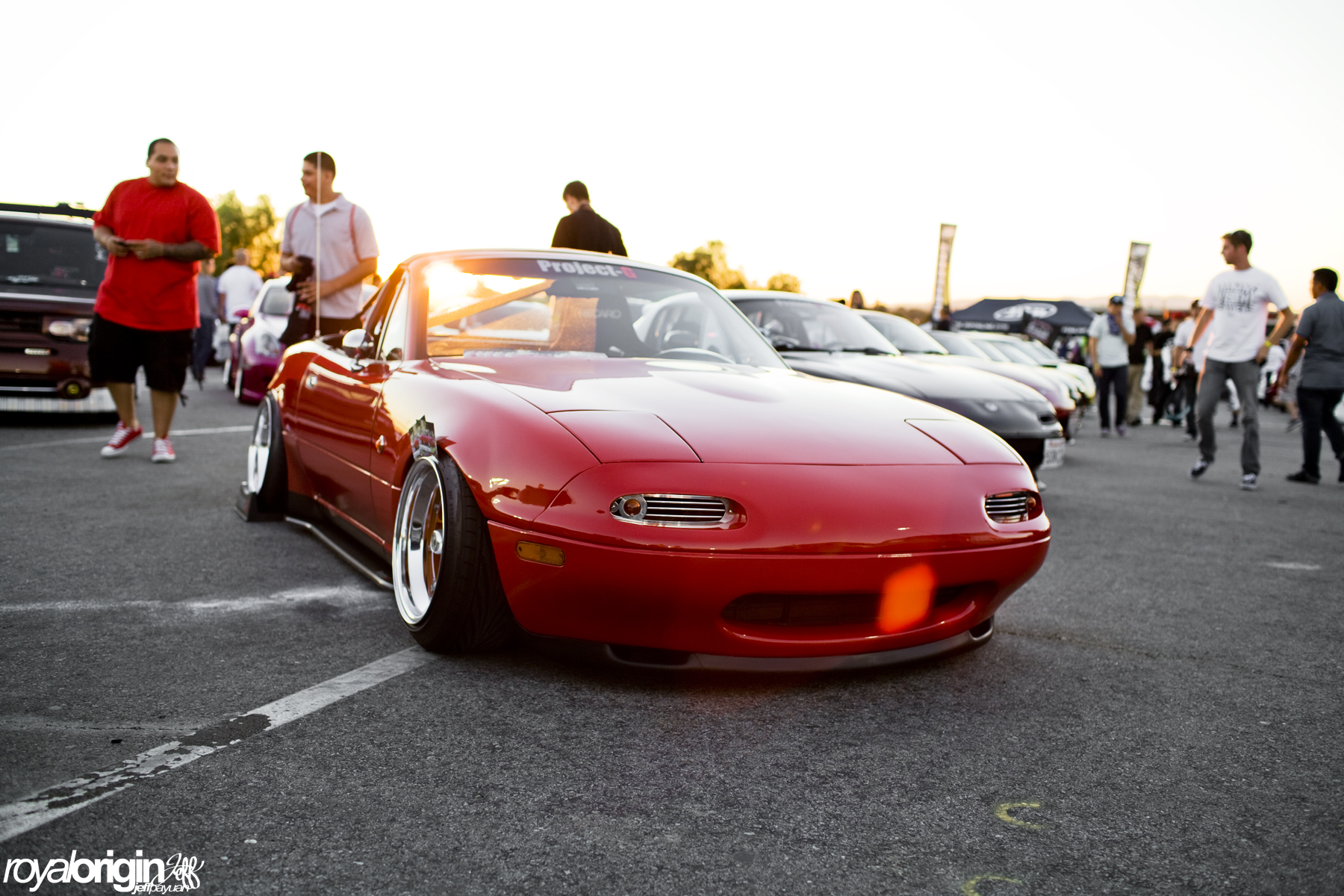 Not a gay hairdresser car anymore is it?
Our very own Alex Yoshioka took home the Slammed Society award with this good looking machine!

Who cares if some people don't like it, this guy is doing his thang with them dubs!
The "rub-step" machine. Rubbin' like a baus down the 405 and 605.
The Royal Flush guys came out to display their neck-breaking rides as well
After staring at all the eye candy, we made our way to the grandstands to watch the Pro-am drifting competition. Though not in the big league, these guys showed major technique and guts! Seeing these guys come inches from the high Irwindale bank and coming within inches of each other in the tandem runs only made us more excited to see the pro's go at it.
The sun began to fall as the Top 32 runs filled the grandstands with the smell of burnt rubber. Multiple drivers found themselves falling victim to the luring high bank- trading paint with the wall and paint was also exchanged from car to car as runs got more and more competitive. Some very impressive runs were performed and the Top 16 was formed just as the sun disappeared into the horizon.
Matt Field gets chased by Chris Forsberg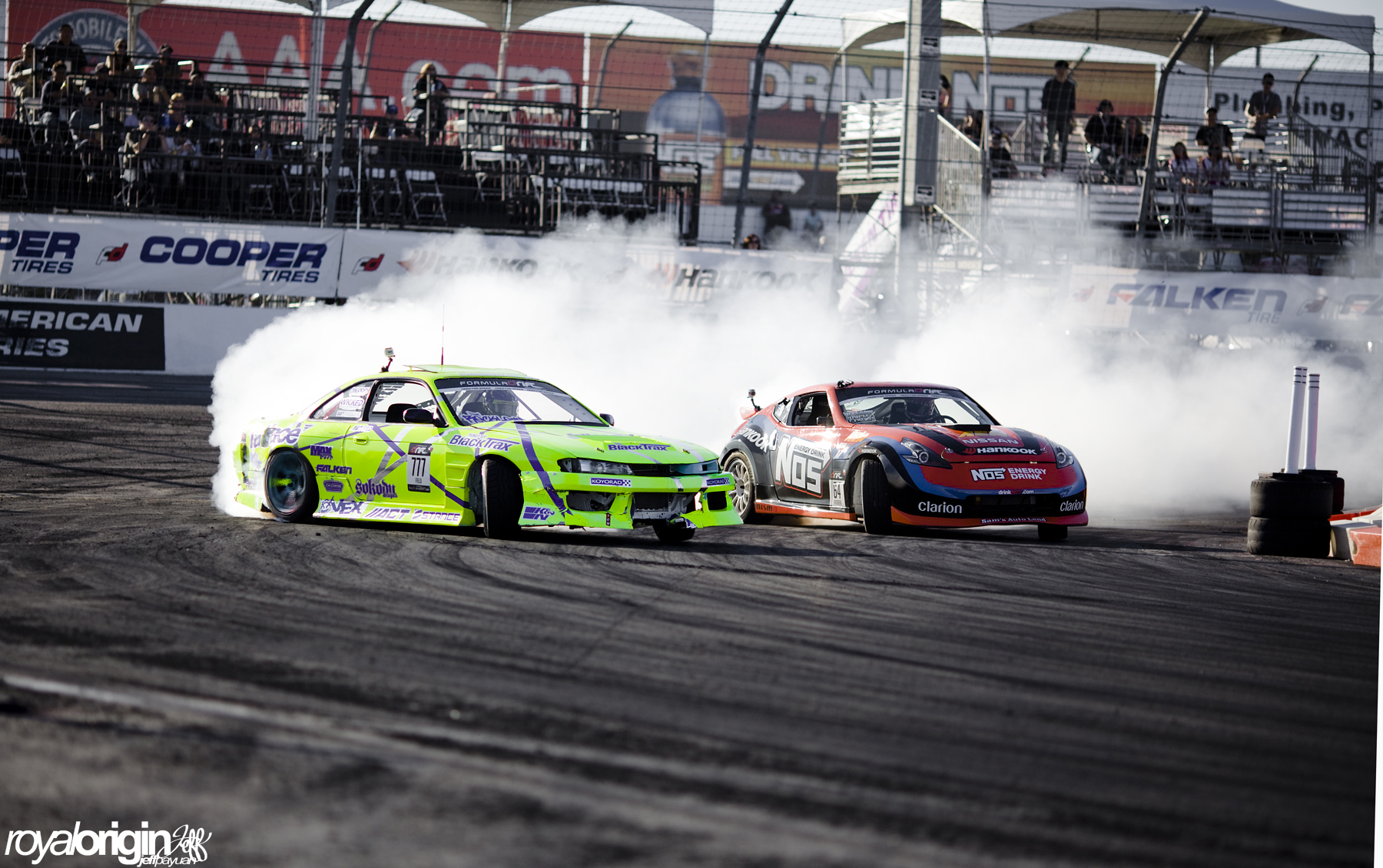 You can never have enough cameras when you slide like Vaughn Gitten Jr!
Micheal Essa and Vaughn Gitten Jr going into their tandem run
Walker Wilkerson loosing a bumper
Tyler McQuarrie getting his drift-on!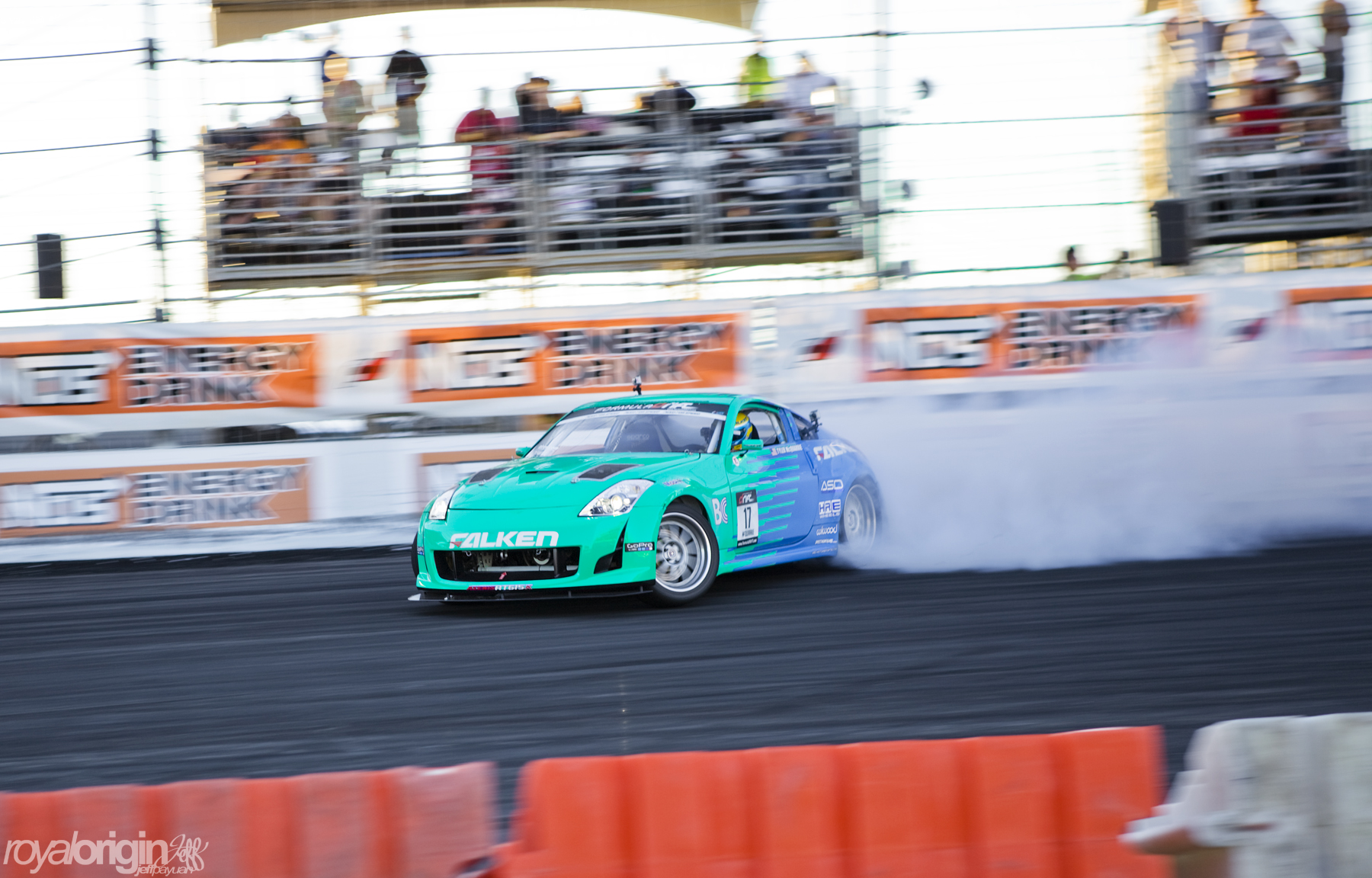 Want some smoke? Matt Powers can fulfill your needs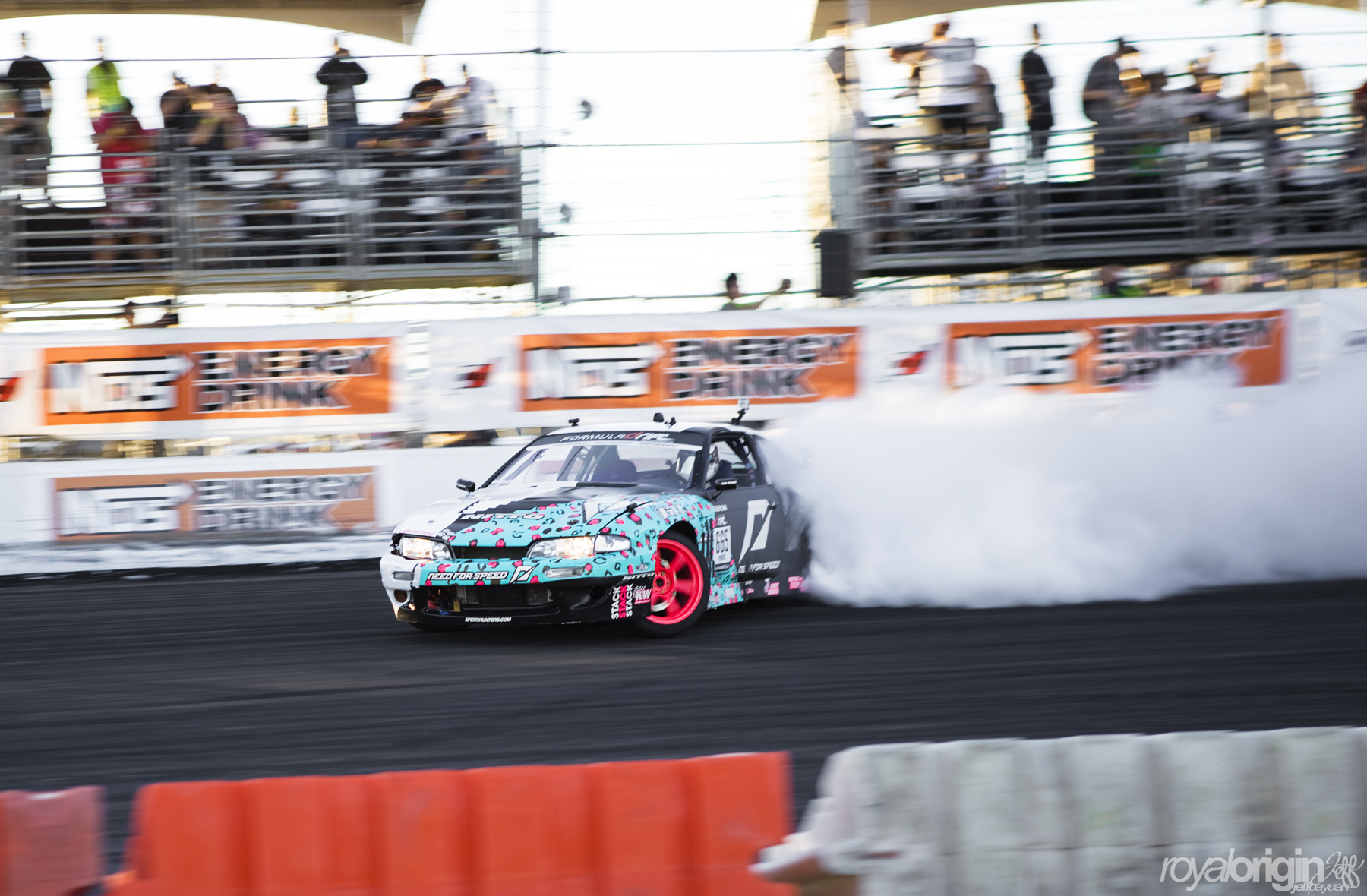 Matt Powers coming in from his disappointing loss
The on track pit area where drivers warmed up their tires and lined up for their runs
A snap of on of the on track media area's engulfed in tire smoke
The opening ceremony began at around 7:45pm. As the national anthem was sung, the Top 16 competitors revved their machines in salute. The soothing scent of expelled gassed filled the speedway as the rumble from the cars resonated in the crowds' ears. Everyone knew that some exciting things were about to happen.
The Top 16 battles were intense, with 4 drivers still in contention to win the 2011 season, nothing was held back. Justin Pawlak, Darren McNamara, and Chris Forsberg all advanced to the Great 8. Championship leader Dai Yoshihara unfortunately lost to Scion Racing's Ken Gushi in the last Top 16 battle, leaving JTP, D-Mac and Forsberg with a chance to capture the title. In order to capture the title, JTP would have to beat D-Mac in the Great 8 round and D-Mac or Forsberg would have to win the event to claim the championship as theirs. Unfortunately JTP lost his shot at the title when he lost to D-Mac in the Great 8, who was later eliminated in the Final 4 by fellow Falken Tire teammate Tyler McQuarrie. Forsberg also lost his chance at the title in the Final 4 loosing to Red Bull driver Rhys Millen. By then it was confirmed that Dai Yoshihara had held onto the 2011 Formula D championship title. In the final battle, McQuarrie fought with enough muscle to capture the first place trophy over Millen and Forsberg beat D-Mac for third place.
There couldn't have been a more dramatic way to end the 2011 Formula D season. We would like to congratulate championship winner Dai Yoshihara and also give a big thanks to the Fatlace crew for organizing the Slammed Society Showcases that provided drift fans with plenty of eye-candy at Formula D events.
We'll leave you with an image of the lovely Holly Lee striking a pose in front of the rub-step machine. Thanks for reading!
Photos courtesy of Jeff Payuan and Alex Yoshioka
-Jay Tien