Main
The Impossible Will Take a While Part 2
By
|
How did I end up here? I promised myself I wouldn't do this to myself, but here I am with two modified cars; both not being able to get into my favorite Dim Sum restaurant plaza. Both cars demanding the attention of my wallet and are both equally important to me. Sometimes I feel like I'm in a relationship with two controlling bitches, hopefully I can turn these hoes into domesticated housewives..
 This photo is an accurate summary on what's going on with my SC400 aka "Dirty Diana". Always something to fix..
My IS250 aka Cleopatra has been pretty good to me until of late when she decided that she didn't want to wear shoes anymore when running..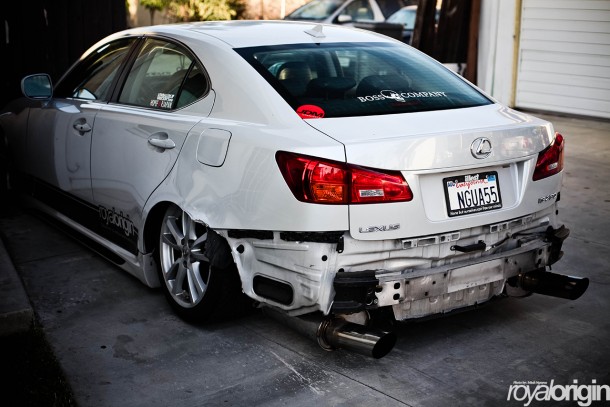 How she looks currently…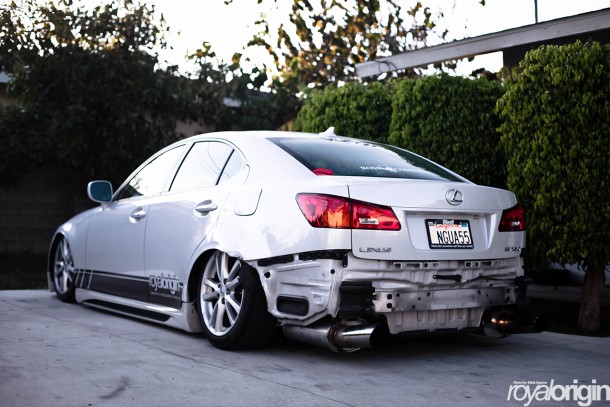 One night when we were working on my car, we forgot to torque the wheels down and when I drove off the wheel just flew off. The wheel hit another car before flying into a random neighborhood. I had to run at least 30 meters before finding my wheel just chilling on a curb in front of someone's house.
I was really surprised I wasn't angry at all about what happened. It was probably because my headlights were tinted that day and they looked so damn good.
Time and money will always fix a broken heart… or anything that is broken.
 I have to admit my rear end has never looked so aggressive.
Some photos of another person who kind of went through the same thing as me. John had a little accident as well with his quarter panel. Looks good right now, but before it looked like the Hulk punched his quarter panel.
 Thanks to Tho's Autobody for working on John's car and mine as well. They're currently welding me a new quarter panel. Check them out here.. http://www.yelp.com/biz/thos-auto-collision-westminster
-NGU ASS