Main
Unlimited Auto Craft
By
|
  The new kick it spot has been at Brandon's new shop, Unlimited Auto Craft in Huntington Beach. We've been doing late night work, installing air, fixing suspension, eating Banh Mi, and getting drunk a lot here. Here are some of the latest projects we've been doing inside of Brandon's shop.
 First night kicking it here, we were working on Derek's air suspension.
Abbitt doing work on the Booshma. Maxing out that camber!
All the way up.
All the way down.
The Booshma laid out.
Aired all the way up, still lower than most rides.
Abbitt getting an orgasm off of the Booshma.
Brandon's drift Subie.
Chris showing off his cooking skills to Derek.
Booshma in the static days. Pretty much looks the same as he does now, just a lil bit lower. Still riding slammed.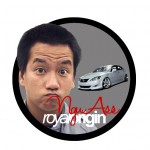 -NGU ASS