Main
Living in FUCKING SURVIVAL
By
|
We weren't sure how this meet would turn out and honestly thought that the first spot we picked would be sufficient enough. Reason is because we used to have meets at Tastea and that lot is way smaller than the Genki Living spot. Nimo, Jennifer, and I were still on our way home from Vegas that evening and by 8:30PM, Alex texted me that the parking lot was already getting packed.  I just told him that we'll figure it out when I get there, thinking it couldn't have been that bad. I was so wrong.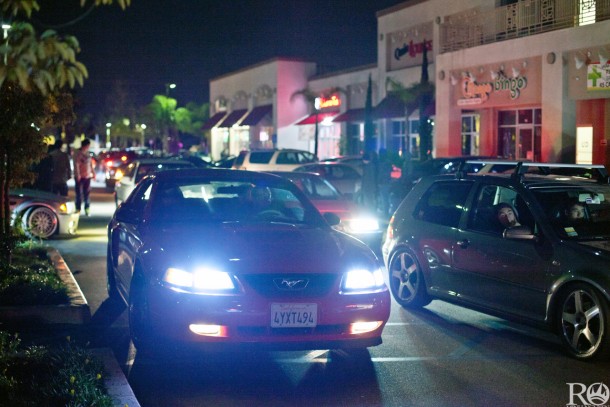 The parking lot was so packed that it was difficult to even walk around. It was a cluster fuck of cars.
 As soon as we arrived, we decided it was time to move to the second spot, which was M&M Donuts.
Garden Grove's finest giving tickets. They gave our friend Anthony a ticket for jaywalking…mother F.
Only photo I got of a car was this Yellow Type R in front of Genki.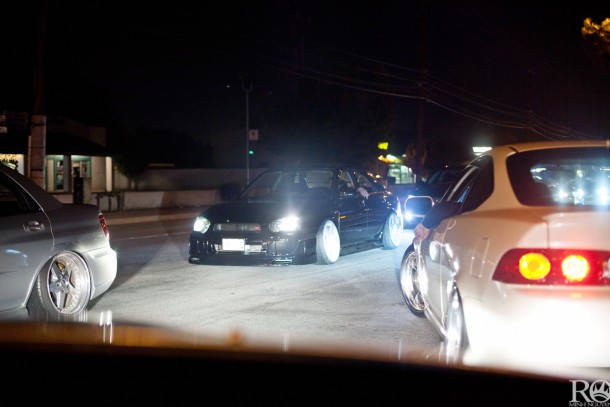 The streets were packed, filled with modified cars everywhere.
LS460 that was coming late to the party just followed us to the next spot.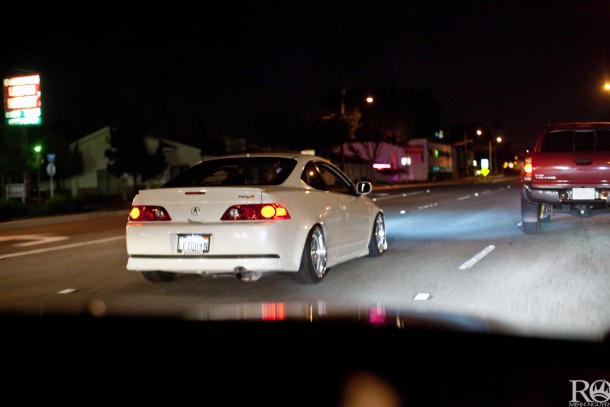 Pogi Fresh leading the way; it was like a parade of cars heading to M&M.
 Damn, our meet only lasted 20 minutes before it got rolled.
The M&M Donuts lot was 5 times bigger than the Genki spot and we filled that up quick too.
Quick shot of Mikey's xB rolling by.
Leighton got a sweet spot in front of the entrance.
Boss 7 Series.
Sweet color combo on this 8th gen Civic.
EK looking for a parking spot.
Guys were surrounding John's car and asking him 21 questions about his life and his car.
Neel debuting his Work Emitz, which he kept on the down low and didn't even tell us about it.
 Minh's Junction Produce IS250.
Spotted some Royal Origin supporters. We'll have stickers for sale again, just be patient!
Clean EVO, I believe it's owned by Daniel Leung's brother.
Speaking of Daniel, here's his Subie.
Alex's Camry getting some attention from future housewives.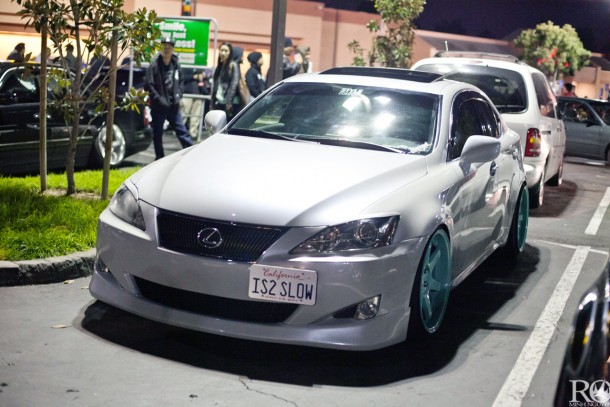 I always see this IS250 at our meets. Thanks for the support homie!
Mother fucking Lux Life, son.
Business in the front, party in the back.
Reminds me of the late Jon Pham's E30. Rest in paradise, homie.
Bringing business to M&Ms.
Vincent's Miata looking fine as fuck.
Mark's big booty hoe.
It was cool that most of the cars here were slammed and we didn't have to tippy toe to find anyone's car.
Sweet beetle.
KSANCHEZ and KJOHNSTON.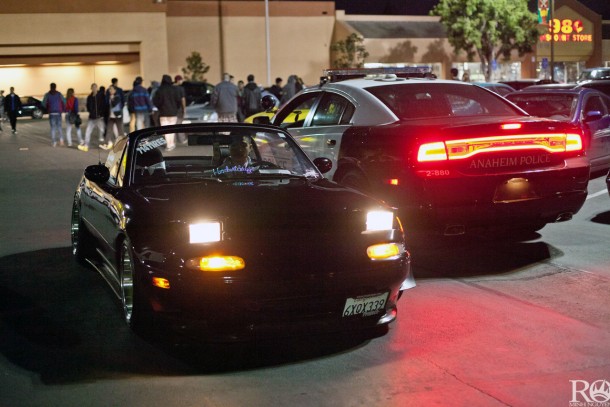 This spot ended up getting rolled on too; they gave Angelo a ticket for being too low and this time they put non-correctable. Might be a $500 fucking ticket.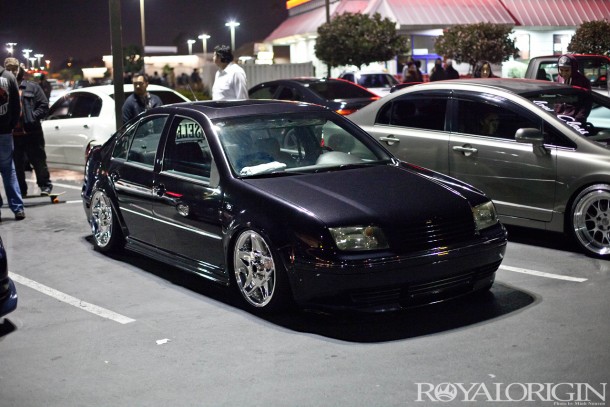 Useless crew came out to kick it.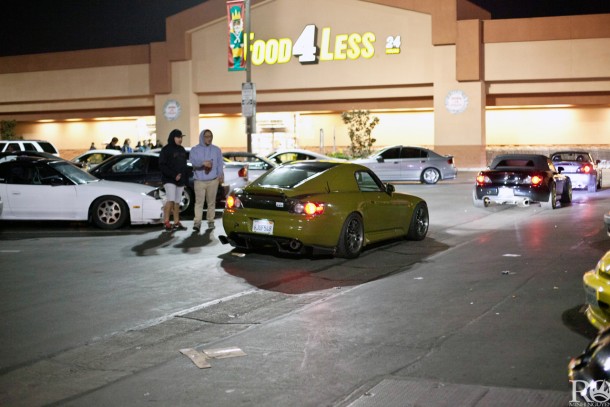 S2K's on the roll.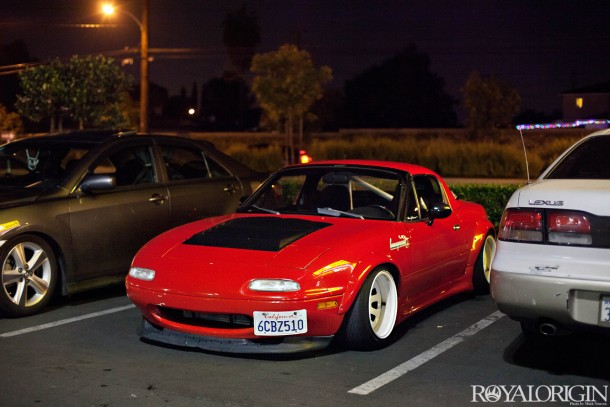 Clean Miata. I am in love with the red paint!
We moved to the third spot just in case the cops wanted to shut down M&M's too. This time, we only invited close friends to Tastea.
Amir's 911, recently featured on Stance Works!
Clean SC.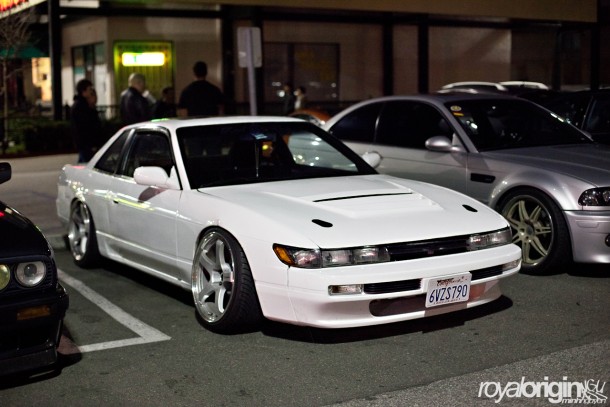 I don't know who invited Thao to come…
Wes' GS with a bumper that I heard he fabbed up in his backyard.
Brendan's E30.
Not sure who these guys are, but they brought the heat with this NSX and 350z.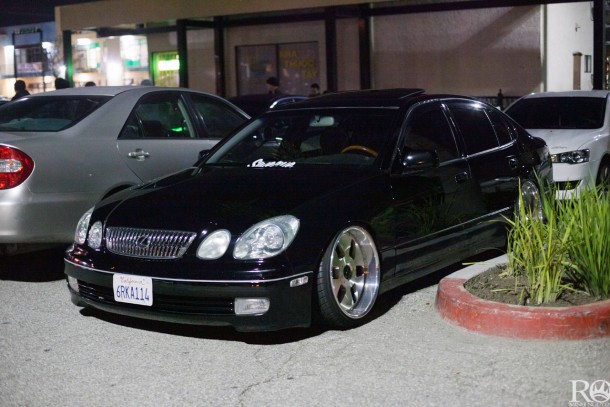 Swerve GS, reminds me of Big Vinh's GS back in 2009.
Merry Christmas guys!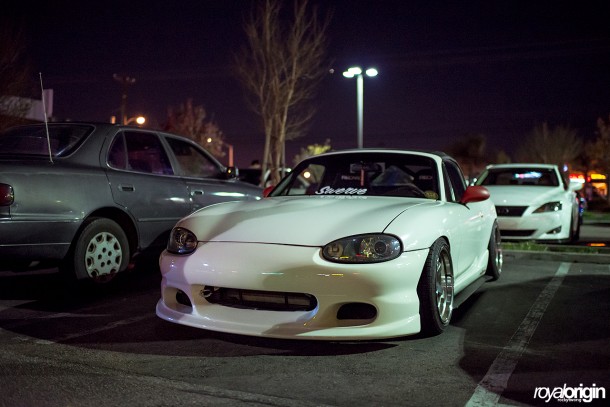 One more shot of Vincent's Miata.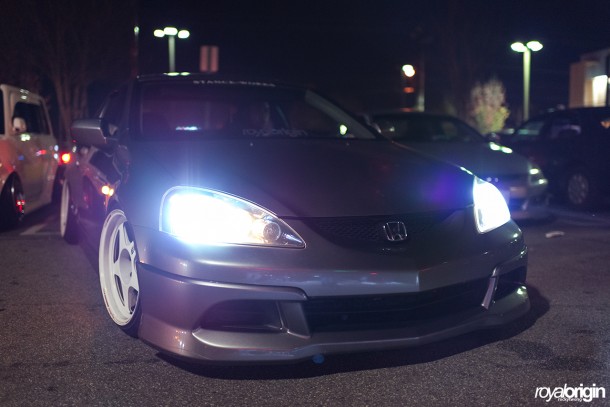 Jeff, hard parking the RSX.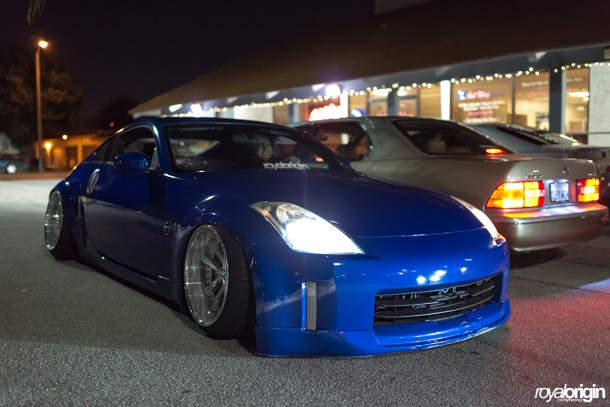 Chris showing up fashionably late.
The Vegas peeps tried to surprise us & left Vegas 20 minutes after us so they can catch up, but Chivas ended up having oil filter problems and got stuck in Barstow. We ended up driving back to get them with an oil filter. Nice try guys, it was the effort that counts.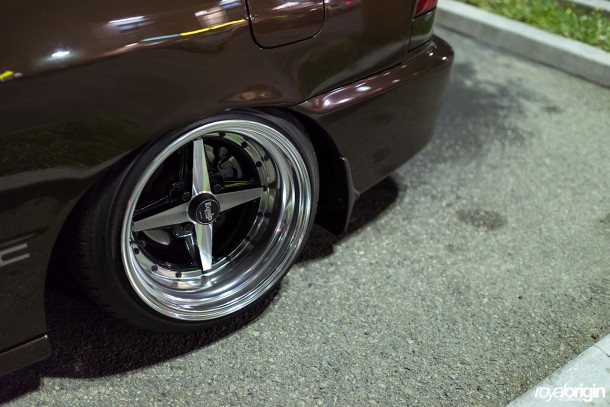 Nice shot of Gerald's Work Equips.
Another shot of Minh's IS250.
Side front face shot of Nimo's IS300. Doesn't even look like it was taken on a 2,000 mile road trip.
Mark lighting the way.
Jay Crayyy.
Bobby finally got bags for his GS. Now he can pick up all his baby mommas.
KJohnston's S2K.
Nicul was afraid that we were going to move to another spot, so he didn't air down.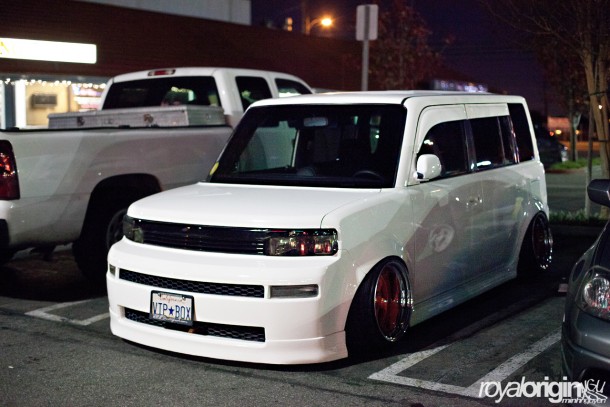 Hey there Mikey.
Sloppy crusin' out because he found out Tastea doesn't serve alcohol.
Time for some 350z porn. Here's Angelo's $500-ticketed 350z.
John Park just recently traded his Equips for some Meisters. Looking good!
Another wheel whore, Christforeman sittin' on some new Weds LX-Zs.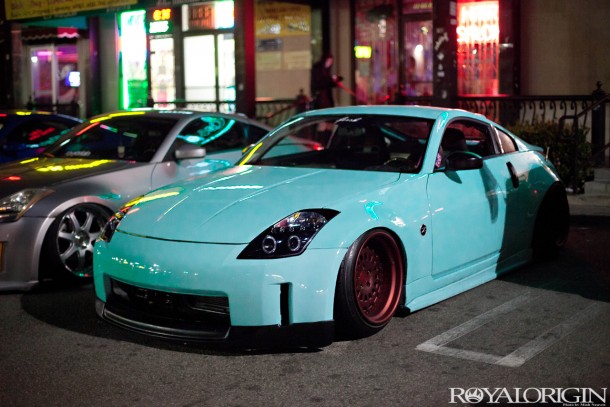 Miguel couldn't afford new wheels, so he just powder coated them.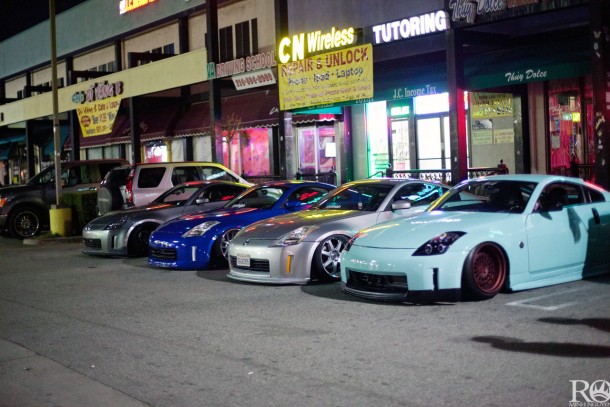 Wish I had a wide angle lens…
350z galore.
All the RSX's were jealous of the 350zs and wanted to park next to each other too.
Man was Sam late…
I always get cool photos of Matt's S13.
Thanks everybody for coming out and dealing with all that bullshit from the cops, assholes doing burn outs, and bitches speeding in the parking lot. We'll find a better spot where we can regulate the traffic and not get kicked out by the police. Peace!
Words by NGU ASS
Photos by NGUASS, Rocky T Wong, and Angelow