Main
NISEI x Stance Nation Showoff 2013
By
|
It was 3 years ago when I attended my first Nisei showoff. I was showing with Team Supastar and it was where I met Angelo for the first time. It was pretty exciting to be showing with a car team and being able to compete for awards. Sadly, the "stance" scene was still growing and when the judges saw my car with stretch tires and tire rubbing fitment they had some disapproving faces. They only took a quick glance at my car and moved on, not even interested in what I had to say about my car. It made me feel like shit. I understand that people have different tastes and all, but being a judge I thought you're suppose to keep your biases aside. That was the last time I attended a Nisei showoff, it gave me a bad taste of a car show and I did not want to deal with the prejudice of others when they don't understand a certain style. On top of that driving a slammed car in LA is pretty much asking for something disastrous to happen to your car.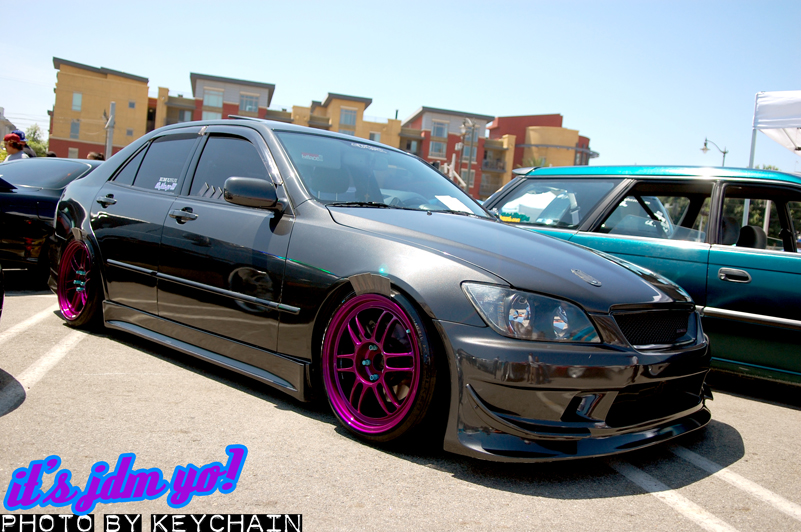 Fast forward to present day, we have a collaboration between Nisei and Stance Nation for this year's show off. This collaboration marked the beginning of something special in the car scene. It's either the old school guys are starting to accept the wheel fitment scene or they're just trying to capitalize on this market. Either way it's cool with me. Young is pretty good friends with Ken Myoshi who is the person that created Nisei Showoff and was able to get three of our cars in as display cars for his company M2 Tuning. This would be the first time in a while that Royal Origin would be taking their cars up to downtown LA.
We woke up super early to get to check in on time. Good thing Vinh has a nice car or I would be angry all the time when I would have to wait for him to get ready.
The bumble bee gets to work in the early morning.
We hit the Nisei traffic as soon as we exited the freeway. Modified cars all over the streets figuring out how to get into the show.
Traffic jam.
Young called up Ken and he directed us to the entrance of the show where we could be staged without getting in line. At the entrance was Armand's MR2, always a pleasure to see this guy.
Ken Myoshi himself, thanks for having us!
Ian and Young, the old school guys in the crew.
When we finished staging the cars, the group decided to go explore Little Tokyo and find a place where we could kick it with air conditioning. There was heavy traffic heading towards the Nisei festivities.
Spotted Paul Mitchell sponsored John Zhang's car being driven by Courtney.
Little Tokyo was packed with street food and Japanese people.
We found a little bar to kick it at with a nice lounge and a nice air conditioner. In this scene, June is talking about his day and Vinh is pretending to care.
Stiff ass margaritas.
I really liked the vibe this bar was giving. Probably because I love brick walls with the combination of wood.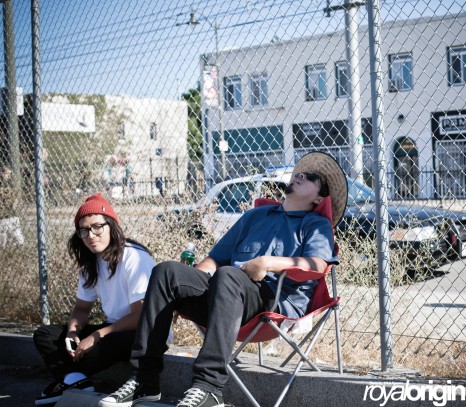 We trekked back to the show and Matt just knocked the fuck out.
Thanks to June, we were able to hang out in his car with the a/c blasting. We were people watching and Vinh's 240 got a lot of attention from the crowd.
LTMW brought out all the internet famous BMWs out.
Liberty Walk making their way into the BMW scene and they've certainly did a good job with their kits for the M3.
I love Z4s with a passion, but I'm not sure how I feel about the Liberty Walk Z4. It just looks incomplete, maybe a GT wing or a hardtop would set it off.
Courtney's F30 with a similar custom front end that BMW has on their new BMW M4 concept.
Liberty Walk kitted M3 on Work VS-XX. I really love the color Laguna Seca Blue and that' would probably explain why this M3 is one of my favorites out of the Liberty Walk M3s.
This Minty Civic was looking pretty nuts.
Candy Red LS400 with some crazy camber fitment in the rear. Wish the front end of the car got lower and it was on the ground all around.
Some expensive cars in the lot today.
Clean yellow 370z on Volk Te-37 SLs.
A lineup of expensive cars.
Love this Honda Accord from the Air Runner booth, wish more people fucked with this platform.
It's the simplest of things that can make a car look awesome. A nice set of wheels and suspension.
The Jetta with the crazy sparkly paint job. Always impressed when I see it in person.
Love this RX-8 on Weds Kranze Vishnu wheels.
 A nice line of quality cars.
Next to us was the Barramundi Wheels displaying their cool line of wheels.
Joey's Odyssey rocking the Raycod wheels. This car is an example of daily turned show car.
Love this Porsche on bronze Work Meisters.

Some cool rear fitment I spotted at Nisei.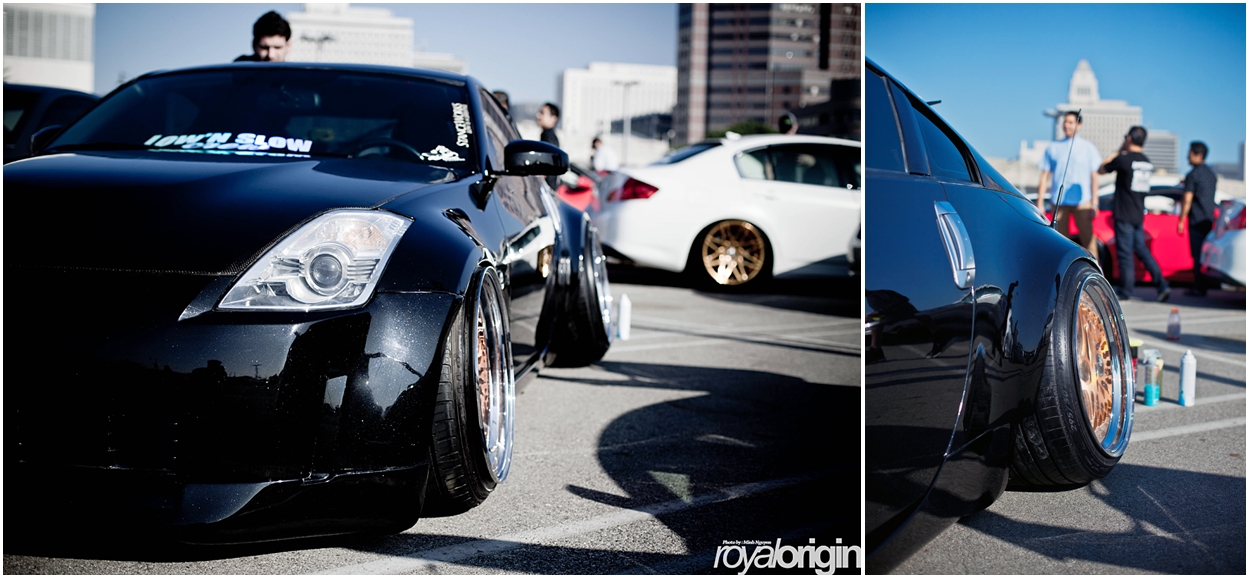 Extreme ass fitment on this Z with 19×14 Avant Garde wheels.
Young and Ian went ape shit over this 1970 Chevelle 454 SS-LS6.  All original everything and probably worth more than most of the cars at the show.
Celine's Smart car with some crazy design on the hood that looks like what my elementary cafeteria lady use to wear.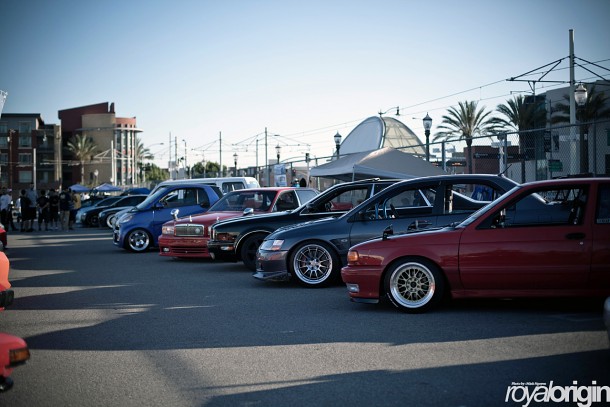 Team Supastar.
The newbies of Royal Origin.
Young's IS300 Wagon on Work SC2s.
June's IS300 rim tucking all around on MB Battles.
Vinh's S13 now on Work XD-9's.  Vinh's 240 surprisingly made it to Nisei in one piece.
This car is scary as fuck to drive to LA, it was probably the lowest of the other cars that we brought up because his oil pan hangs so low. What sucks is that Vinh had to lead to Nisei too, so he wasn't able to avoid stuff like Young and June.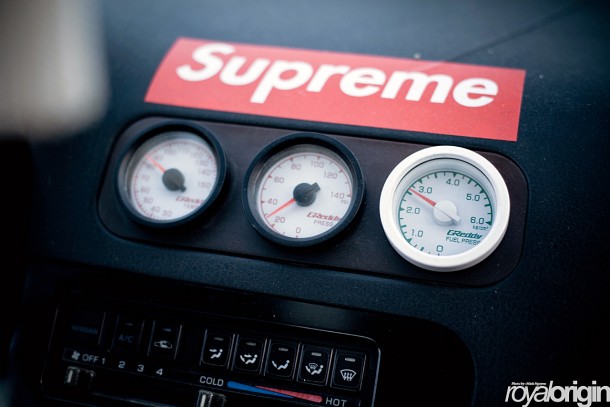 Thank god for oil pressure gauges. Nisei x Stance Nation Showoff seemed to be a hit with people lining up outside and the lot always being full when I checked. It was actually pretty difficult to get photos without people getting in the way. That's actually a good sign for a car show. Thanks Ken for having us and we hope that Showoff continues to blossom.  A 100+ more photos in the gallery below, so check it out.