Life
Desktop Wallpapers by Jeff Payuan
By
|
Today I present to you some lovely art by Jeff Payuan. He's one of our attention to detail photographers and all his photos always come out brilliant. If you have ever gotten a picture taken by Jeff, you basically have been blessed by a thousand angels.  Unlike my pictures where everything is auto tone, auto contrast, auto color and image resize.  His pictures are carefully edited and make nice wall papers.  Let's start with some fan favorites, the mintiest of all Zs.
Francis and I. I feel so honored…
Vinh with his new lip!
Rocky aka the champion of WEKFEST! Always looking clean.
Hope you enjoyed the photos! NGUASS OUT.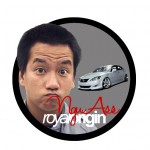 -Words by NGU ASS
-Photography by Jeff Payuan