Life
Royal Flush Meet
By
|
We had the chance to attend the Royal Flush Meet that is hosted every month at Ray Ray's Restaurant. I rolled up with Vinh, Angelo, and the broads. We had heard that this meet has only the best VIP cars around the area. We kind of came late, so most of the cars that I expected to be there were already leaving as we walked over to the plaza. The meet still did not disappoint; there were still some good-looking cars such as  Ojay's LS400.
Love the way this Subie sits, it also has my all time favorite wheels, the Work Equip 5 spokes.
A fellow Royal Flush member's GS300 on some fresh Garson's.
Definition of boss.
RSX with some crazy camber in the rear.
More cars with some Work Equips…they look good on any car!
Sick LS400, seen it before, usually with the Auto Fashion crew.
Wilmer's dumped SC300 on Weds Bazerias, this car has made major progress since the first time I met him at a One Love meet.
A Civic that loves boobies angling out of the parking lot.
Real cool meet, we'll definitely hit this one up with our cars in the future.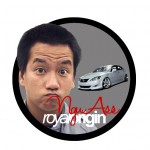 -NGU ASS