Main
SWAGADEGA NIGHTS PRESENTED BY ROYAL ORIGIN X ONIWAGENS X STYLE OVER COMFORT
By
|
Swagedega Nights presented by Royal Origin, Oniwagens, and Style Over Comfort. This is our first ever collaborated event with the awesome crew called Oni Wagens, who are mainly out of San Diego. This event is mainly just to have a good time, meet the people behind these groups, and just socialize.
Address:
3640 Grand Avenue
Chino Hills, CA 91709
Time: 7:00PM
Facebook Event: http://www.facebook.com/event.php?eid=188588564551542
There will be plenty of places in the plaza to choose from to get food and relax. See you guys there!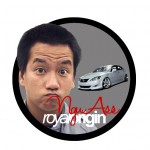 -NGU ASS