Main
JDM Chemicals presents Instafame at the IDRC
By
|
The first form of competitive motorsport that I was introduced to was drag racing. Before I was even big enough to sit in the front seat of a car, I was constantly surrounded by cars built to go down the quarter-mile. It's pretty easy to say that drag racing was in its prime in the 90's as tuners and shops all over the world were out on the asphalt with hopes of decreasing the amount of time it took their vehicles to travel 1320 feet.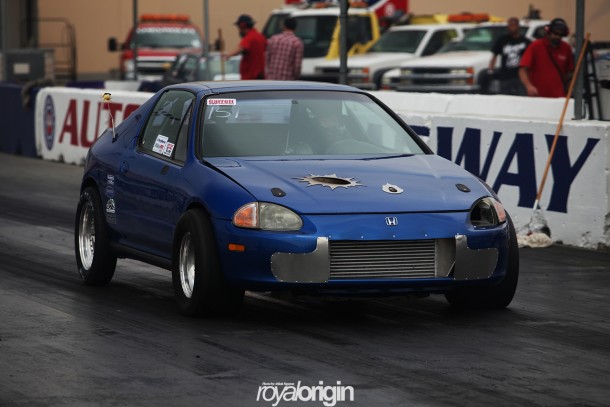 As we fast forward a couple of decades to this present day it's not hard to notice that drag racing has slowly lost its once-strong following. Like most trends, drag racing has become less and less popular and having a fast quarter-mile time is no longer a priority for most people when building their vehicles. More and more companies continue to change their focus from producing parts for straight-line speed and sponsors for drag racing seem scarce. Nowadays, drifting and time-attack racing has eclipsed drag racing and people have dedicated their time into making their cars slide with more style or turn with more precision.
Despite the dying trend, there are still those who are very dedicated to the quarter-mile. Exposure may not be as great as what it used to be but the passion for drag racing is still strong. The army may have gotten smaller, but the fight is still strong and this was very evident at last week's IDRC event at Autoclub Speedway in Fontana.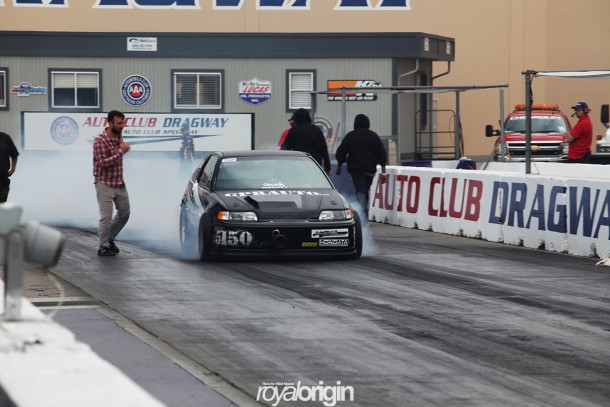 Fast Hondas were plentiful. There's no denying the terrible reputation for modified Hondas, but out on the drag strip were plenty of Civics, Integras and CRX's capable of putting anyone's bad judgments to rest. Among other cars, there was also a McLaren and D-Sport's RH9 R35 GTR driven by Tarzan Yamada speeding down the quarter-mile pass. Although it was awesome to see them race down the strip, both cars produced time-slips with higher numbers than the four bangers flying down the strip.
For this season of the IDRC tour, a new car show series called Instafame has been paired with the drag racing event to add a little eye candy for the spectators. This past Sunday's Instafame show was hosted by our good friends at JDM Chemicals so a few of us decided to register and attend to show our support. If I was to compare the event to another; the IDRC/Instafame event felt like Formula D/Slammed Society (Offset Kings) but with fewer commercials and a lot less stickers. The atmosphere was more laid back, foot traffic wasn't ridiculous and the grand scale of things happening at the event was a lot smaller.
Minh's Scara, doing some modelling work for the JDM Chemicals Tire and Wheel products.
If you haven't tried these products yet, you should.
The rake on this car looked awkward, but it looks to be well on it's way to being something awesome.
Although simple in comparison to the most recent trends in the American VIP scene; I still like this simple, gentleman gangster style the most.
"Whoever invented leather pants, I want to personally thank them one day." – Minh Nguyen
Melissa Rios and Elissa Alva were present at the JDM Chemicals booth to sign autographs and take pictures.
"I FRIGGIN' LOVE DIMPLES!!!" – Jay Tien
Team Hybrid came out in full force.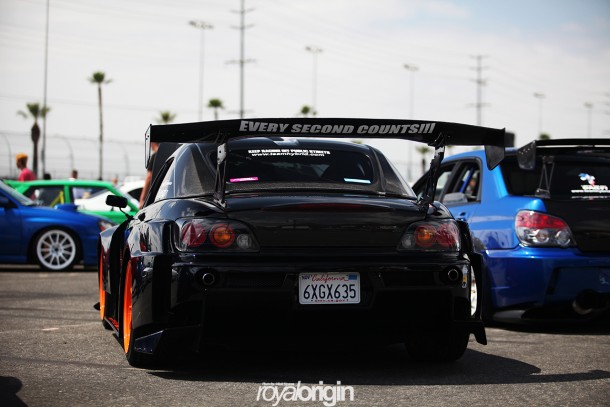 Whether it be in drag racing or time-attack, EVERY SECOND COUNTS!!!
I love the look of NT03's on S2000. Especially when they're ready for halloween.
As common as the platform may be, a comprehensively built EJ coupe like this is quite rare nowadays.
REAL RACECAR
Creative way to use your wing as a booster seat.
The Trance(track/stance) style was strong in this one. it's Delinte Tires were ready to murder some apexes.
ABG…… I wonder how many stares this car would get in the OC.
This Starlet was probably my favorite car there. It was an old school build executed beautifully.
the Starlet's orchestra.
A sweet looking B6 from the Grounded crew.
Another cool Audi from the Grounded crew.
CREAMing on the circuit.
Ready for some hot laps.
the famous Minty xB.
Cheesy name aside, the Instafame show was a great event. Although the number of cars in attendance was low compared to other shows, the stand out quality of the show was how the organizers wanted to treat the car owners who made the effort to register and attend the event. Car events these days don't do much in terms of rewarding their participants. Although some show series do offer trophies and prizes for winners, most of the rewards are reaped by the popular, high budget, long-term built cars. Of course the trophy winning cars are great and deserve recognition, and if I was judging then I would made the same decisions, but it gets boring seeing the same car win something over and over again. What Instafame added to the show was a raffle for ALL show participants. This equalized the playing field giving all owners a chance at driving home with something. If you registered, you were entered into the raffle. Simple as that. You didn't need to be the lowest, the fastest, or the cleanest to win. If your car was on display on the lot, you were allocated a number for the raffle. This gave the event a more laid back vibe and proved that the Instafame organizers were trying to organize an event that was different. Of course there were separate prizes and awards for the judged winners of certain car categories, but seeing a show series making an effort to give something to those who didn't win a category was awesome. Hundreds of dollars worth of goods were raffled off which was awesome for a car show of approximately only 55 participants.
Needs to be on the track.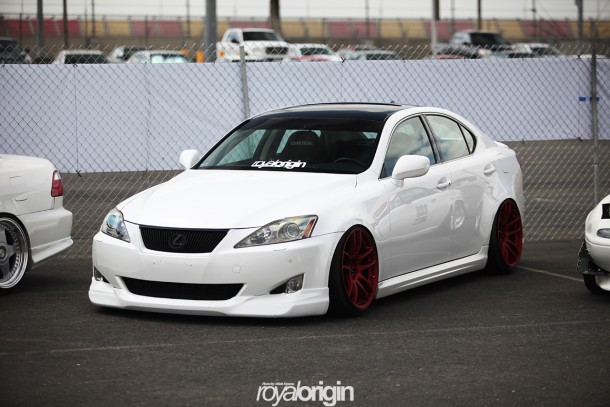 Who's crazy enough to rock Bride bucket seats in an IS350? Ashton is.
Coupe front with no side moldings. Honda should have released it this way.
Vinh's STI shows and goes.
Rocky's Subie sitting on some major bling.
Randy Goco's 3-series looking clean as always.
Australian Muscle.
The sporty and wild VIP styles have recently influenced a lot of builds, but this GS proves that the murdered-out gentleman style is timeless.
It's hard to believe that the kouki model s14s are almost old enough to date.
A car event is complete when it has food trucks.
I will never grow tired of seeing this Fiat.
Picture Perfect.
Instafame is a refreshing new breed of car show. I'm excited to see the series further develop and I hope it sticks to its roots. The Instafame series will be touring with the IDRC events so I encourage you all to look into it and make the effort to attend one. Hopefully the addition of the car show can also inject new energy and exposure for the drag racing scene. It may be an old sport but it still is one that should not be left behind in history. It may not be the biggest event on the calendar, but the IDRC/Instafame series is definitely something worth supporting. If something is trying to support you, there shouldn't be any reason not to return the favor.
 As always, check out the the gallery below for more pics! But first, look at them take a selfie.
Written by @jaygiatien.